Cool trips
10 trips of a lifetime. 12 Guy Trips That Will Change Your Life. Digg 1.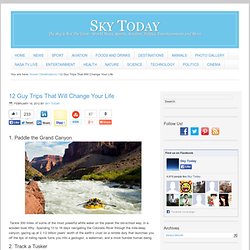 Paddle the Grand Canyon. 50 of the Most Important Landmarks of the World (Part 1) Originally, a landmark literally meant a geographic feature used by explorers and others to find their way back or through an area.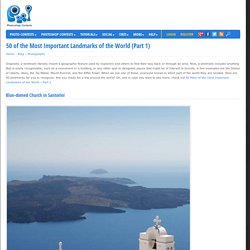 Now, a landmark includes anything that is easily recognizable, such as a monument or a building, or any other spot to designate places that might be of interest to tourists. A few examples are the Statue of Liberty, Uluru, the Taj Mahal, Mount Everest, and the Eiffel Tower. When we see one of those, everyone knows in which part of the world they are located. Here are 50 landmarks for you to recognize. Are you ready for a trip around the world? XXXX Island | The ultimate destination for mates' trips away. 10 beautiful sacred spots. Mount Parnassus (Photo: age fotostock / SuperStock) When we modern folks visit a beautiful natural site, the experience may evoke a sense of peace, a feeling of awe, or just the need to snap a million photos.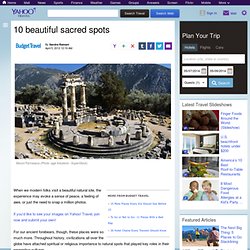 If you'd like to see your images on Yahoo! Amazing Places To Experience Around The Globe (Part 1) Preachers Rock, Preikestolen, Norway Blue Caves - Zakynthos Island, Greece Skaftafeli - Iceland Plitvice Lakes – Croatia.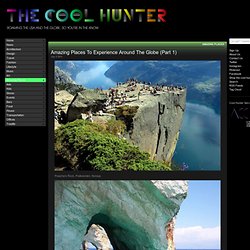 10 hidden places most people don't know about. 10 beautiful sacred spots. This floating movie theater might just be the coolest place on Earth | Technology News Blog. The Archipelago Cinema was created for the debut of a new Thai film festival Movie theaters are inherently awesome places to be on their own, evoking memories of past big-screen adventures and nights spent eating popcorn and candy for supper.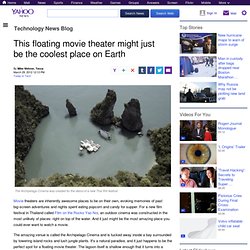 For a new film festival in Thailand called Film on the Rocks Yao Noi, an outdoor cinema was constructed in the most unlikely of places: right on top of the water. And it just might be the most amazing place you could ever want to watch a movie. The amazing venue is called the Archipelago Cinema and is tucked away inside a bay surrounded by towering island rocks and lush jungle plants. It's a natural paradise, and it just happens to be the perfect spot for a floating movie theater.
World's Prettiest Places. Plitvice Lakes National Park, Croatia First off, not every pick on our list is indeed a "place," per se.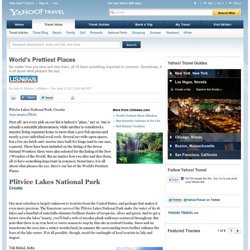 One is actually a scientific phenomenon, while another is considered a massive living organism home to more than 1,500 fish species and nearly 3,000 individual coral reefs. Several are wide-open spaces, but a few are brick-and- mortar sites built for kings (and in one case, a queen). Three have been included on the listing of the Seven Natural Wonders; three were also selected for the listing of the New 7 Wonders of the World.
---