Mac HD fix
Time Machine - cant boot after full system restore
Startup key combinations for Intel-based Macs
Snow Leopard clean install + restore from Time Machine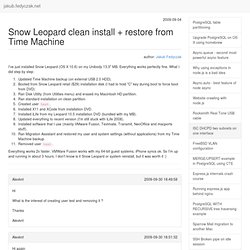 I've just installed Snow Leopard (OS X 10.6) on my Unibody 13.3" MB. Everything works perfectly fine. What I did step by step: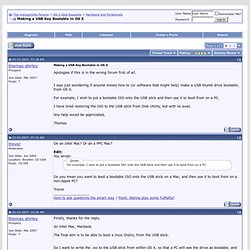 Making a USB Key Bootable in OS X
Hi, I was trying to do exactly the same thing and i did this in order to create my TD from an .ISO file. In TERMINAL:
Help: Macintosh HD could not be repaired
OS X - Repair disk errors like invalid node structure
If you're an OS X user you may have run into a problem like this before. When you power on the machine it just sits on the Apple logo screen but won't get any further. Other boot up problems may be fixed by this as well. If you try to boot from the install CD and run disk utility to repair permissions or repair the disk, you may get an error such as invalid node structure or something similar that will cause the repair to fail. One solution to this is to reformat the hard drive, reinstall the OS, and then reinstall all the programs.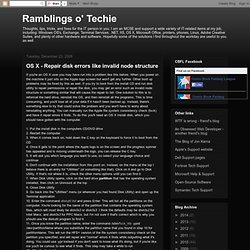 A DIY solution to an invalid node structure problem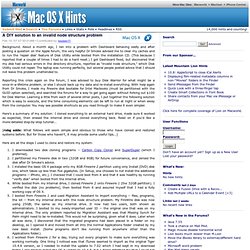 Background. About a month ago, I ran into a problem with Dashboard behaving oddly and after posting a question on the Apple forum, the very helpful Dr Smoke advised me to clear my caches and to run the 'repair disk' feature of Disk Utility while booted from the installation CD. (This because I reported that a couple of times I had to do a hard reset.)