ReadItLater
Bitcasa Infinite Drive | Votre disque dur externe dans le Cloud | Stockage infini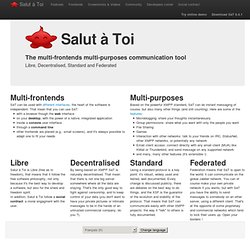 Salut à Toi is Libre (free as in freedom), that means that it follow the free software philosophy, not only because it's the best way to develop a software, but also for the share and freedom spirit. In addition, Salut à Toi follow a social contract: a moral engagment with the user. By being based on XMPP SàT is naturally decentralised.
Salut à Toi: l'outil de communication multi-interfaces et multi-usages
Printcraft
An Open Source MQTT v3.1 Broker
A quick note on Gobetwino: Gobetwino is a program that you can download for free online. It uses Arduino to control Windows programs.
Using Gobetwino to Control Windows through Arduino - Electronics