ReadItLater
Suprmasv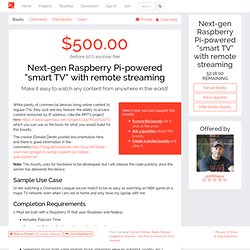 Make it easy to watch any content from anywhere in the world! While plenty of commercial devices bring online content to regular TVs, they lack one key feature: the ability to access content restricted by IP address. I like the RPiTV project here: https://www.suprmasv.com/projects/45/Pirate%20TV, which you can use as the basis for what you would build for this bounty. The creator (Donald Derek) posted documentation here, and there is good information in the comments:http://blog.donaldderek.com/2013/06/build-your-own-google-tv-using-raspberrypi-nodejs-and-socket-io/ Note: This bounty asks for hardware to be developed, but I will release the code publicly once the winner has delivered the device.
Bitcasa Infinite Drive | Votre disque dur externe dans le Cloud | Stockage infini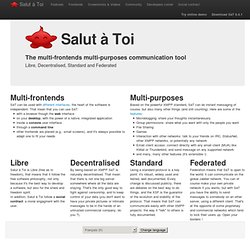 Salut à Toi is Libre (free as in freedom), that means that it follow the free software philosophy, not only because it's the best way to develop a software, but also for the share and freedom spirit. In addition, Salut à Toi follow a social contract: a moral engagment with the user. By being based on XMPP SàT is naturally decentralised.
Salut à Toi: l'outil de communication multi-interfaces et multi-usages
Current version (Beta) 0.4.2 January 25, 2014Changelog Bitmessage is a P2P communications protocol used to send encrypted messages to another person or to many subscribers. It is decentralized and trustless, meaning that you need-not inherently trust any entities like root certificate authorities. It uses strong authentication which means that the sender of a message cannot be spoofed, and it aims to hide "non-content" data, like the sender and receiver of messages, from passive eavesdroppers like those running warrantless wiretapping programs. If Bitmessage is completely new to you, you may wish to start by reading the whitepaper.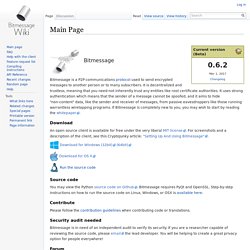 Printcraft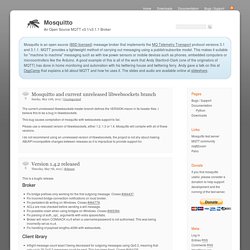 An Open Source MQTT v3.1 Broker
The Mosquitto Python client was donated to the Eclipse Paho project in June of this year. As mosquitto.py has been very popular, I have been maintaining both code bases together. With the Mosquitto project also moving to Eclipse it is now even more redundant to keep maintaining mosquitto.py so I would like to recommend that everybody currently using mosquitto.py move over to using the Paho Python client.
Soft reset KNACSS applies a minimal CSS reset to remove some problematical external margins and have a generic base for all elements. Box-Sizing One important part is that KNACSS use the usefull box-sizing: border-box model to ease our life when dealing with paddings and borders ; the exact size of all elements will now correspond to width property (and not width + padding + border anymore) : Typography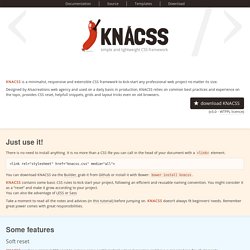 A quick note on Gobetwino: Gobetwino is a program that you can download for free online. It uses Arduino to control Windows programs.
Using Gobetwino to Control Windows through Arduino - Electronics