Android
Root / Rom : exploiter son téléphone Android à 100% : Un téléphone à son image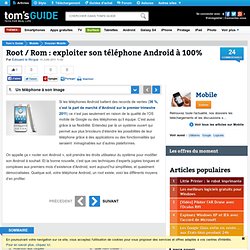 Si les téléphones Android battent des records de ventes (36 %, c'est la part de marché d'Android sur le premier trimestre 2011) ce n'est pas seulement en raison de la qualité de l'OS mobile de Google ou des téléphones qu'il équipe. C'est aussi grâce à sa flexibilité. Entendez par là un système ouvert qui permet aux plus bricoleurs d'étendre les possibilités de leur téléphone grâce à des applications ou des fonctionnalités qui seraient inimaginables sur d'autres plateformes.
Comparatif terminaux Android
Marque Statut Prix
Idea Normally smartphone events are tightly coupled to your phone device itself. When your cell phone is ringing, your phone speaker plays a ringtone. When you get a new text message, your phone displays it on its screen. Wouldn't it be thrilling to make thoses phone events visible somewhere else, on your wearable, in your living room, on your robot, in your office or where ever you want it to occur? Or would you like to use your smartphone sensors, like the accelerometer, light sensor, compass or your touchscreen to control other devices?