My First PLN
Andy Carvin's Waste of Bandwidth. Here's the transcript of a talk I gave at the International Symposium for Online Journalists in Austin, TX.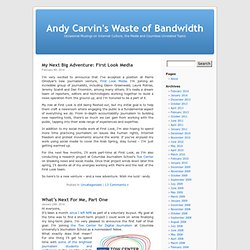 I'll add the video if they post it later. Now as many of you know, I'm usually I'm not at a loss for words. But I really struggled to decide what to talk about today, especially in the wake of the attack this week on my hometown of Boston. Some of my fondest memories of the city are of that magical Monday, once a year each April, when everyone would line the streets and cheer on one stranger after another – encouraging them to succeed in accomplishing a little magic of their own. I had originally planned to the role of social media in our coverage of Newtown today. Joho the Blog. I'm at a talk by Andrew Revkin of the NY Times' Dot Earth blog at the Shorenstein Center.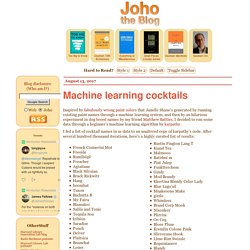 [Alex Jones mentions in his introduction that Andy is a singer-songwriter who played with Pete Seeger. Awesome!] Andy says he's been a science reporter for 31 years. Weblogg-ed. Blog. As I wrote last week , I threw away a week I didn't have penning an "insanely long" review (as I described it), of Mark Helprin's insanely sloppy " Digital Barbarism .
" The part of that book that really got me going was the incessant Red-baiting -- the suggestion that the movement of which I am a part is a kind of warmed over Marxism from the 1960s. That part always gets me going because it betrays a kind of mushiness in thinking that I should have thought a decade of writing by scores of advocates would have driven away. The Shifted Librarian.
Around the Corner-MGuhlin.org. 2¢ Worth. Listen A few weeks ago I worked and attended North Carolina's ISTE affiliate conference.
I opened the NCTIES conference with a breakfast keynote address and Marc Prensky closed it with a luncheon keynote the next day. Sadly, I missed the second day of the conference. I would first offer some constructive criticism to NCTIES , and to all such ed-tech conferences across the nation and around the world. The Strength of Weak Ties - David Jakes. To-Go. Featured articles All of my friends know I have serious reservations about smarmy self-important libertarianism of TED and loathe speaking in the format – essentially a television program without any of the accoutrements of a television studio.
That said, I've now performed three of them. My first TEDx Talk made me ill for months before and weeks following the talk. The pressure was unbearable. OLDaily ~ by Stephen Downes. By Stephen Downes April 8, 2014 What Books Should Every Intelligent Person Read?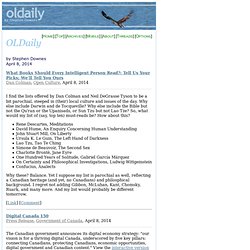 : Tell Us Your Picks; We'll Tell You OursDan Colman, Open Culture, April 8, 2014 I find the lists offered by Dan Colman and Neil DeGrasse Tyson to be a bit parochial, steeped in (their) local culture and issues of the day. Why else include Darwin and de Tocqueville? Why else include the Bible but not the Qu'ran or the Upanisads, or Sun Tzu but not Lao Tze?
---