Desserts
Tiger Butter Chocolates Recipe
Ingredients 6 ounces semisweet or bittersweet (60-percent) chocolate, chopped into 1/2-inch pieces 2 tablespoons unsalted butter, at room temperature 1 cup flour 2 tablespoons unsweetened cocoa powder 1 teaspoon baking powder 1/4 teaspoon salt 2/3 cup sugar 2 large eggs, at room temperature 1 teaspoon vanilla extract One 4.67-ounce package chocolate mint thins, such as Andes, chopped into 1/2-inch pieces Directions
Double Chocolate and Mint Cookies Recipe : Giada De Laurentiis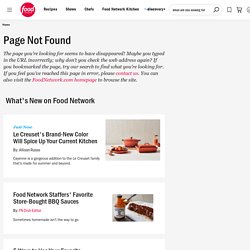 Chocolate Truffles Recipe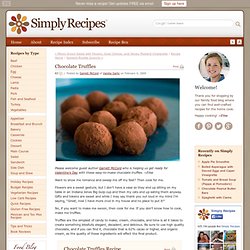 Please welcome guest author Garrett McCord who is helping us get ready for Valentine's Day with these easy-to-make chocolate truffles. ~Elise Want to show me romance and sweep me off my feet?
Chocapocalypse Cookie Recipe : Alton Brown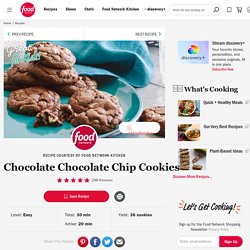 Ingredients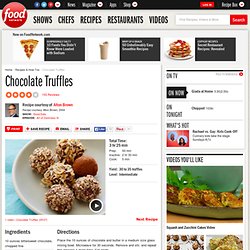 Ingredients 10 ounces bittersweet chocolate, chopped fine 3 tablespoons unsalted butter 1/2 cup heavy cream 1 tablespoon light corn syrup 1/4 cup brandy 1/2 cup Dutch process cocoa powder, finely chopped nuts, and/or toasted coconut, for coating truffles 8 ounces semisweet or bittersweet chocolate, chopped fine Directions Place the 10 ounces of chocolate and butter in a medium size glass mixing bowl. Microwave for 30 seconds.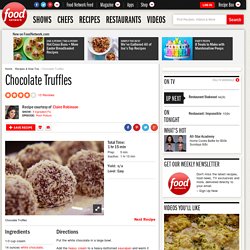 Ingredients 1/3 cup cream 14 ounces white chocolate, chopped 1 tablespoon butter 8 ounces dark chocolate, chopped 1 1/2 cups coconut, toasted and finely ground Directions Put the white chocolate in a large bowl. Add the heavy cream to a heavy-bottomed saucepan and warm it over very low heat.
Chocolate Truffles Recipe : Claire Robinson : Recipes