Desserts
Double Chocolate and Mint Cookies Recipe : Giada De Laurentiis. Chocolate Truffles Recipe. Please welcome guest author Garrett McCord who is helping us get ready for Valentine's Day with these easy-to-make chocolate truffles.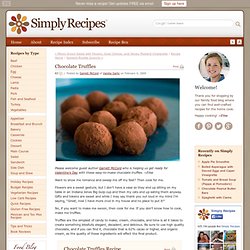 ~Elise Want to show me romance and sweep me off my feet? Chocapocalypse Cookie Recipe : Alton Brown. Directions Place the 54-percent bittersweet chocolate and unsweetened chocolate in a medium glass mixing bowl and microwave on high for two 30-second intervals, stirring after each interval.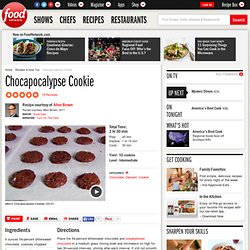 If still not smooth heat for 10 additional seconds at a time and stir until smooth. Set aside to cool to 90 degrees F, approximately 15 minutes. Chocolate Truffles Recipe : Alton Brown : Recipes. Directions Place the 10 ounces of chocolate and butter in a medium size glass mixing bowl.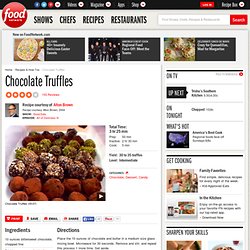 Microwave for 30 seconds. Chocolate Truffles Recipe : Claire Robinson : Recipes.
---