Behavior
Get flash to fully experience Pearltrees
Stuart Bradford Do you treat yourself as well as you treat your friends and family? That simple question is the basis for a burgeoning new area of psychological research called self-compassion — how kindly people view themselves. People who find it easy to be supportive and understanding to others, it turns out, often score surprisingly low on self-compassion tests, berating themselves for perceived failures like being overweight or not exercising. The research suggests that giving ourselves a break and accepting our imperfections may be the first step toward better health.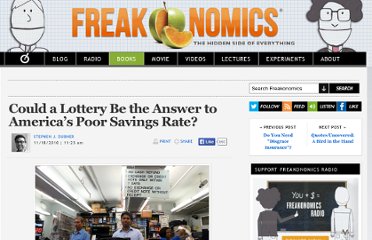 Stephen J. DUBNER: There's something Peter Tufano wants to know about you: If you had to, could you come up with $2,000 in 30 days? That's the question he asked a whole bunch of people in 13 countries, including the U.S. Peter TUFANO: Why $2,000? Cause an auto transmission is about $1,500.
The Stone is a forum for contemporary philosophers on issues both timely and timeless. Despite rumors to the contrary, there are many ways in which the human brain isn't all that fancy. Let's compare it to the nervous system of a fruit fly. Both are made up of cells, of course, with neurons playing particularly important roles.