Galaxy tab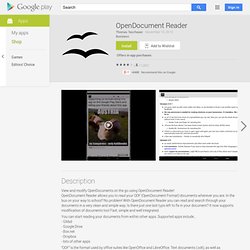 OpenOffice Document Reader - Applications sur l'Android Market
'S werelds nummer 1 mobiele kantoor vandaag !# Geïnstalleerd op meer dan 120 miljoen apparaten in 205 landen# Meer dan 40.000 registraties per dag# Nummer 1 app in Google Play categorie OfficeSuite is een universeel document viewer voor Android waarmee u openen, weergeven , afdrukken en delen inheemse Microsoft DOC , DOCX , DOCM , RTF , TXT , LOG , XLS , xlsx , xlsm , CSV , PPT , PPTX , PPS , ppsx , PPTM , PPSM , EML , PDF-en ZIP -bestanden en bijlagen , altijd en overal ! OfficeSuite bevat een bestandsbrowser en integratie met cloud service leiders als Box , Dropbox , Google Drive , SkyDrive en SugarSync om gebruikers een veelheid aan opties over hoe je bestanden en bijlagen beheren . Een aantal fabrikanten , zoals Sony , Amazon , Barnes and Noble , Coby , Alcatel , Archos , Pandigital , Polaroid , ViewSonic , Kyocera en Kobo vertrouwde MobiSystems en voorgeladen OfficeSuite wereldwijd .
• Lær å spille dine favorittsanger på piano• 100 sanger å lære fra forskjellige epoker og sjangere.• Svært konfigurerbar skaleres tastatur som passer for alle enheter og tabletter.• Piano egnet for alle enheter og tabletter. (piano melody free - learn favorite songs and play by ear) ***** Andre funksjoner *****Fokus på deler av sangen for å spille og lære melodiene.Autentisk digitalisert flygel høres ut.Marker notater på / av å spille etter gehør.Vis / skjul notenavnene.Tregere / raskere sangen.Skru opp / ned volumet på avspillingen, som er ideelt for lek sammen modus.Pressure Sensitive. Styre volumet avhengig av hvor hardt du slår notene.Immersion Ultimate Density Kontroll haptisk feedback.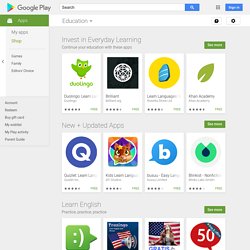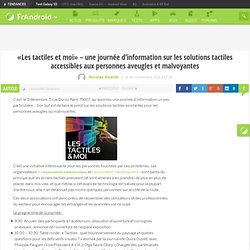 +Nicolas est un geek depuis son plus jeune âge !
«Les tactiles et moi» – une journée d'information sur les solutions tactiles accessibles aux personnes aveugles et malvoyantes