Galaxy tab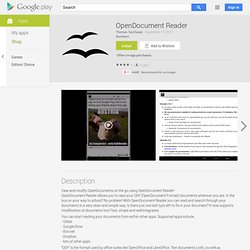 OpenOffice Document Reader - Applications sur l'Android Market
No. 1 bureau mobile dans le monde aujourd'hui! # Installé sur plus de 120 millions d'appareils dans 205 pays # Plus de 40.000 immatriculations par jour # No. 1 app dans Google Play catégorie d'affaires OfficeSuite est un visualiseur de document universel pour Android qui vous permet d'ouvrir, de visualiser, d'imprimer et de partager natif Microsoft DOC, DOCX, DOCM, RTF, TXT, LOG, XLS, XLSX, XLSM, CSV, PPT, PPTX, PPS, ppsx, GRP, PPSM, EML, PDF et fichiers ZIP et les pièces jointes où, n'importe quand! OfficeSuite comprend un navigateur de fichiers et l'intégration avec les chefs de services de cloud computing comme Box, Dropbox, Google Drive, SkyDrive et SugarSync pour donner aux utilisateurs une multitude d'options sur la façon de gérer les fichiers et pièces jointes. Un certain nombre de fabricants tels que Sony, Amazon, Barnes and Noble, Coby, Alcatel, Archos, Pandigital, Polaroid, ViewSonic, Kyocera et Kobo confiance MobiSystems OfficeSuite et préchargé dans le monde entier.
DragonBox Algebra 5+ - The game that secretly teaches algebra DragonBox Algebra 5+ Is perfect for giving young children a head start in mathematics and algebra. Children as young as five can easily begin to grasp the basic processes involved in solving linear equations without even realising that they are learning. The game is intuitive, engaging and fun, allowing anyone to learn the basics of algebra at his or her own pace.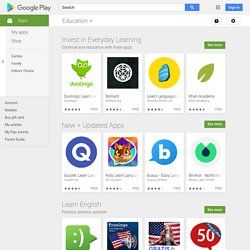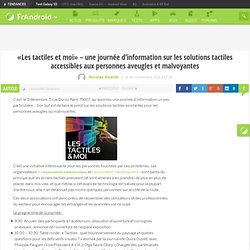 Nicolas Khalidi • le 30 novembre 2011 à 17:31 30 novembre 2011 article Actualités Générales «Les tactiles et moi» – une journée d'information sur les solutions tactiles accessibles aux personnes aveugles et malvoyantes C'est le 3 décembre, 5 rue Duroc Paris 75007, qu'aura lieu une journée d'information un peu particulière… Son but est de faire le point sur les solutions tactiles existantes pour les personnes aveugles ou malvoyantes. C'est une initiative intéressante pour les personnes touchées par ces problèmes.
«Les tactiles et moi» – une journée d'information sur les solutions tactiles accessibles aux personnes aveugles et malvoyantes