Online Search Tools - Deep Web Search
Deep Web. Mike Bergman, founder of BrightPlanet and credited with coining the phrase,[5] said that searching on the Internet today can be compared to dragging a net across the surface of the ocean: a great deal may be caught in the net, but there is a wealth of information that is deep and therefore missed.[6] Most of the Web's information is buried far down on dynamically generated sites, and standard search engines do not find it.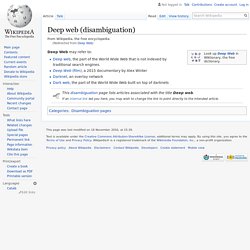 Traditional search engines cannot "see" or retrieve content in the deep Web—those pages do not exist until they are created dynamically as the result of a specific search. As of 2001, the deep Web was several orders of magnitude larger than the surface Web.[7] Size[edit] Estimates based on extrapolations from a study done at University of California, Berkeley in 2001[7] speculate that the deep Web consists of about 7.5 petabytes. Database search engine. There are several categories of search engine software: Web search or full-text search (example: Lucene), database or structured data search (example: Dieselpoint), and mixed or enterprise search (example: Google Search Appliance).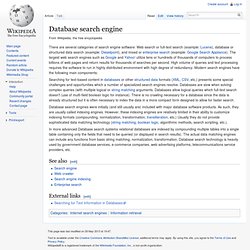 The largest web search engines such as Google and Yahoo! Utilize tens or hundreds of thousands of computers to process billions of web pages and return results for thousands of searches per second. List of online databases. List of academic databases and search engines. The general list of search engines for all-purpose search engines that can be used for academic purposesbibliographic databases for information about databases giving bibliographic information about finding books and journal articles.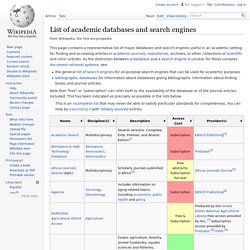 Note that "free" or "subscription" can refer both to the availability of the database or of the journal articles included. This has been indicated as precisely as possible in the lists below. 99 Resources to Research & Mine the Invisible Web. College researchers often need more than Google and Wikipedia to get the job done.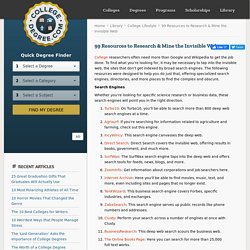 To find what you're looking for, it may be necessary to tap into the invisible web, the sites that don't get indexed by broad search engines. The following resources were designed to help you do just that, offering specialized search engines, directories, and more places to find the complex and obscure. Search Engines. "The Invisible Web" by Chris Sherman. The Invisible Web. What is the Invisible Web?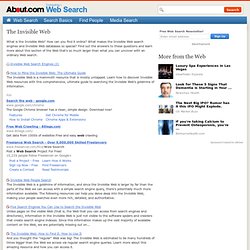 How can you find it online? What makes the Invisible Web search engines and Invisible Web databases so special? Find out the answers to these questions and learn more about this section of the Web that's so much larger than what you can uncover with an ordinary Web search. How to Mine the Invisible Web: The Ultimate GuideThe Invisible Web is a mammoth resource that is mostly untapped.
IncyWincy: The Invisible Web Search Engine. Search Socially. DeepDyve - Research. Rent. Read. Hakia. Welcome to INFOMINE: Scholarly Internet Resource Collections.
Discover over 70,000+ databases and specially search engines. 100 Useful Tips and Tools to Research the Deep Web. By Alisa Miller Experts say that typical search engines like Yahoo!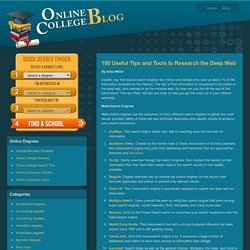 And Google only pick up about 1% of the information available on the Internet. IncyWincy: The Invisible Web Search Engine. Encyclopedia, Almanac, Atlas, Biographies, Dictionary, Thesaurus. Free online reference, research & homework help. TechXtra: Engineering, Mathematics, and Computing. Business Solutions & Software for Legal, Education and Government | LexisNexis.
The Guide DB. Find your guide to any topic. ERIC – World's largest digital library of education literature. E-Print Network 3.0 - Advanced Search. Free Public Records | Search the Original Directory Worldwide. DeepPeep: discover the hidden web. US Identify - People Search Database.
---