Google Plus (People) Search - Google+
Find People - Search People - People Directory - Google Plus. Google Plus Directory | Google Plus Search | Find People on G+ How to Find People on Google Plus (Google+) If Google Plus continues to experience the kind of incredible traction it has garnered over the past couple of weeks, it will quickly be a major network.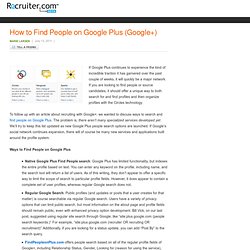 If you are looking to find people or source candidates, it should offer a unique way to both search for and find profiles and then organize profiles with the Circles technology. To follow up with an article about recruiting with Google+, we wanted to discuss ways to search and find people on Google Plus. Google+ Statistics on SocialStatistics.com. Add Google+ Search to Chrome. Want to search for Google+ posts and friends straight from your Chrome address bar?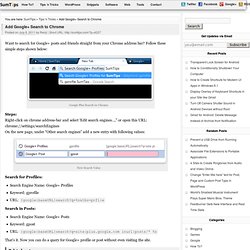 Follow these simple steps shown below: Google Plus Search in Chrome Steps: Right-click on chrome address-bar and select 'Edit search engines…," or open this URL: On the new page, under "Other search engines" add a new entry with following values: New Search Value. Share This Circle. CircleCount.com - Get your CircleRank and see the most popular people at Google+ The Google+ Hall of Fame. Nederland. Homepage - Google+ Suggested Users, learn who to follow on Google+. Alltop - Top Pluserati News. Find your plus - Search Google Plus. Welcome | Cause+ People's Choice. Women of Google+ Best People To Follow On Google Plus – Google Friend Connect Buzz. Here's my list of the top people to follow on Google Plus, a work in progress, so feel free to suggest a catagory or person to follow on Google+ in the comments below All profiles have Google Verified Names badges or I know them personallyNeed a G+ invite, just ask in the comments belowHang out with me, Chris Lang, on Google+ here…..On Sept. 5th, Google+ added their own recommended users page Google.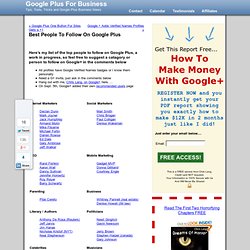 Plus Buddy - Discover people on Google+ based on your Facebook profile. Discover influential people on Google+ Search Posts on Google+ Trendisimo - Trends and Search for Google+ Group/as - Social network user grouping made easy. Google Plus Search Engine - Search public Google Plus content. Google Plus Directory | Google Plus Search | Find People on G+ Search Public Google Plus Content (Google+)
---