Google Plus (People) Search - Google+
Find People - Search People - People Directory - Google Plus
How to Find People on Google Plus (Google+)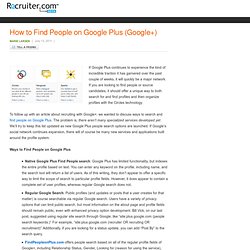 If Google Plus continues to experience the kind of incredible traction it has garnered over the past couple of weeks, it will quickly be a major network. If you are looking to find people or source candidates, it should offer a unique way to both search for and find profiles and then organize profiles with the Circles technology. To follow up with an article about recruiting with Google+, we wanted to discuss ways to search and find people on Google Plus.
Google+ Statistics on SocialStatistics.com
Add Google+ Search to Chrome | SumTips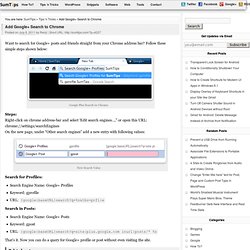 Want to search for Google+ posts and friends straight from your Chrome address bar? Follow these simple steps shown below: Google Plus Search in Chrome Steps: Right-click on chrome address-bar and select 'Edit search engines…," or open this URL: chrome://settings/searchEngines On the new page, under "Other search engines" add a new entry with following values: New Search Value
Share This Circle
The Google+ Hall of Fame
Nederland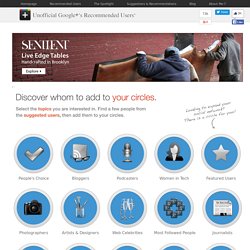 *Disclaimer: This website is not in any form associated or affiliated with Google.com. The right of all logos, photos and design elements displayed on the website are belong to their respective organizations and individuals. The categories are based on basic research on internet and website owners' personal opinions and do not necessarily reflect factual information. The owners of the website keep the right to modify the categories at any time. This website is licensed under a Creative Commons License.
Alltop - Top Pluserati News
Find your plus - Search Google Plus
Above ground swimming pools are very simple, portable and convenient on the budget of many people who desire to have some splash of fun in the summer. These are ready alternatives to many people that have the wherewithal to have or use in ground pools. You probably don't know much about Above Ground Swimming Pools, this article reveals basic details you should know.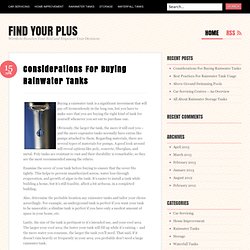 Welcome | Cause+
People's Choice
Articles Lean In: Women, Work, and the Will to Lead by Sheryl Sandberg Downloading a Kindle copy today of the new book by Facebook COO Sheryl Sandberg today felt like my birthday, only instead of cake and getting older, I felt inspired and lighter. Even though I'm an author and love book reviews on my work, I rarely take the time myself to leave a review. Today was different. I felt it important to write a review of "Lean In".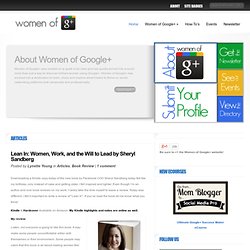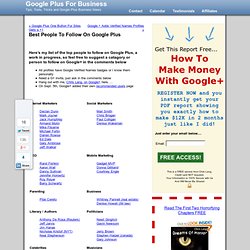 Here's my list of the top people to follow on Google Plus, a work in progress, so feel free to suggest a catagory or person to follow on Google+ in the comments below All profiles have Google Verified Names badges or I know them personallyNeed a G+ invite, just ask in the comments belowHang out with me, Chris Lang, on Google+ here…..On Sept. 5th, Google+ added their own recommended users page Google
Best People To Follow On Google Plus – Google Friend Connect Buzz
Plus Buddy - Discover people on Google+ based on your Facebook profile
Search Posts on Google+
Trendisimo - Trends and Search for Google+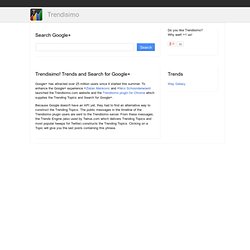 Google+ has attracted over 25 million users since it started this summer. To enhance the Google+ experience +Zlatan Menkovic and +Nico Schoonderwoerd launched the Trendisimo.com website and the Trendisimo plugin for Chrome which supplies the Trending Topics and Search for Google+. Because Google doesn't have an API yet, they had to find an alternative way to construct the Trending Topics.
Google Plus Search Engine - Search public Google Plus content
Search Public Google Plus Content (Google+)