Bronnen
Blogteam Traffic4u 11 juli 2011, 11:14 Rubriek: Traffic4u
Update aangaande het amendement op de cookiewet | Traffic4u - Online marketing weblog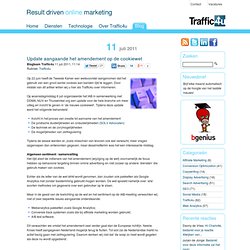 Juridische en Technische antwoorden op de #Cookiewet – Affiliate Marketing Blog |
COOKIES!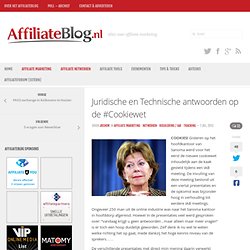 Vereniging DDMA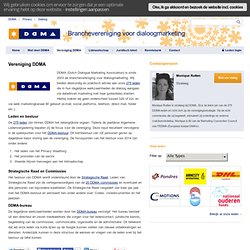 DDMA (Dutch Dialogue Marketing Association) is sinds 2003 de branchevereniging voor dialoogmarketing. Wij bieden deskundig en praktisch advies aan onze 270 leden die in hun dagelijkse werkzaamheden de dialoog aangaan via datadriven marketing met haar (potentiele) klanten.
Possible Sears, Roebuck & Co. Online Customer Information Breach Class Action
datamining en privacy-anything you do can be used against you
paper waarin bekeken wordt in hoeverre Privacy Preserving Datamining als oplossing kunnen dienen voor problemen rondom datamining en privacy.
Mogelijk alternatief voor transparantie? by dutchital Aug 24
Facebook is simplifying privacy controls for posts. Didn't mean for your boss to see a picture of you on the beach that day you called in sick?
Facebook Aims to Simplify Privacy Settings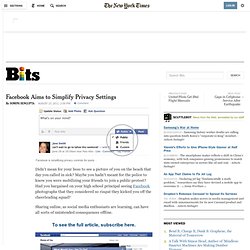 Facebook simplifies privacy controls. 2011 08 23
Also, possibilities to veto a tag of yourself in pictures. by dutchital Aug 23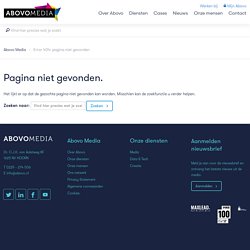 Meestal worden prijzen in webshops inclusief de btw vermeld.
Personalized advertising: Succes of valkuil? » ABOVO Blog
Vervolg:
Het vertrouwen moet worden gewekt dat de privacy gewaarborgd blijft, om het ten volle te kunnen benutten. by dutchital Aug 23
Artikel over een onderzoek van de VU Amsterdam over de effecten van personalisatie van online reclame.
Uit het onderzoek blijkt dat adverteerders baat kunnen hebben bij gepersonaliseerde advertenties, indien zij het privacy-vraagstuk niet uit het oog verliezen. by dutchital Aug 23
The effect of a firm's privay practices on custumor online trust
privacy practice versus customer online trust by dutchital Aug 27
Targeted Online Advertising: What's the Harm & Where Are We Heading?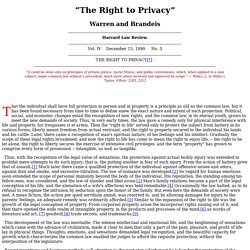 Warren and Brandeis, "The Right to Privacy"
Harvard Law Review. Vol. IV December 15, 1890 No. 5 THE RIGHT TO PRIVACY [*] .
Personalization versus privacy: an empirical examination of the online consumer's dilemma
vervolg
aanbieder. 1. Aanbieders kunnen meer persoonlike informatie verzamelen en gebruiken indien zij vertrouwensverhogende maatregelen nemen.
2. aanbieders moeten zich bewust zijn van de verschillende soorten van personalisatie en de verschillende waarden die consumenten hieraan hechten. by dutchital Aug 23
Personalization versus privacy: An Empirical Examination on the Online Consumers's Dilemma
In dit stuk wordt betoogd dat de investeringen die gedaan worden in het personaliseren van websites, teniet gedaan kunnen worden indien niet voldoende aandacht wordt gegeven aan het privacy-aspect. Er wordt onderzocht of er een uitruil plaatsvindt tussen het verliezen van (een deel) van de privacy (namelijk het vrijgeven van persoonlijke informatie) en de voordelen die hier tegenover staan van personalisatie.

De mogelijkheid van personalisatie is afhankelijk van 2 factoren:
1. de mogelijkheid van aanbieders (online retailers, maar niet uitsluitend retailers) om persoonlijke informatie van (potentiele) klanten te verzamelen en te verwerken
2. de bereidheid van consumenten om (een deel van) hun persoonlijke informatie te delen
In aanvulling op de "uitruil" is uit het onderzoek gebleken dat de consumenten eerder gepersonaliseerde online diensten zullen afnemen indien zij vertrouwen hebben in de by dutchital Aug 23