Sewing / Quilting
Schuimrubber
Stoffen  - Online Stoffen Winkel | NoeKs Shop | Fabrics & More...
Cation Designs
I know, I know, another costume? As Mr. Cation said wearily, three costumes in four weeks is a bit much...but I just can't resist an opportunity to dress up! A bunch of guys from my church have been talking about going to check out the San Jose Tech Museum's Star Wars exhibit for a while, and Sunday ended up being the day. With only 48 hours notice, I rather ambitiously decided that I could whip up a quick Han Solo costume. I love me a rogue of ambiguous moral character (I mean, have you seen Thranduil and Loki?)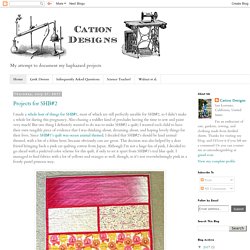 De Quiltkat
I have to say I love this swimsuit by Herve Leger . OK it's not my favorite colour choice and I'd move the lines a little, but this is a very clever garment. I'm saddened to see so many negative comments about it on so many fashion blogs so I'm going to give it my personal seal of design approval.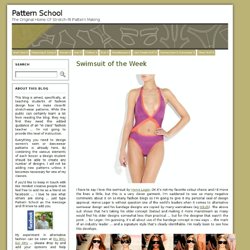 by Dana on July 2, 2008 Click an image below for step-by-step instructions and easy sewing projects. Don't worry…we won't leave you hanging! We've got all the nitty gritty details. So click around and have fun.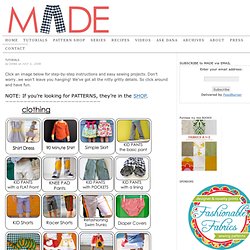 Women's Clothing Month Links
Fit to Flatter - Finding the Perfect Fit in a Dress
1. Introduction It is great if you have large format printer or plotter but what to do if you have just a regular Letter or A4 size printer? You might think that printing a large pattern on a small format printer could be a challenge for you. With our website using tiling feature, that's easy. It might take you up to 30-40 minutes to assemble pattern tiles for the first time.
How to Print Patterns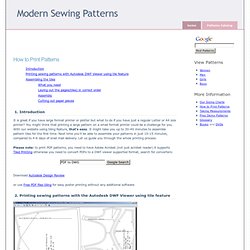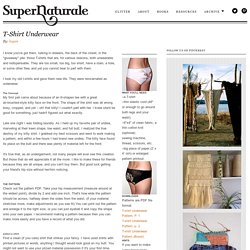 I know you've got them, lurking in drawers, the back of the closet, in the "giveaway" pile: those T-shirts that are, for various reasons, both unwearable and indispensable. They are too small, too big, too short, have a stain, a hole, or some other flaw, and yet you cannot bear to part with them. I took my old t-shirts and gave them new life. They were reincarnated as underwear.
Sewing Mama Forums - Free Sewing Patterns and Tutorials to Download - Clothing for kids
Waarom cookies? Cookies zorgen er bijvoorbeeld voor dat je ingelogd kan blijven op een website of dat bijvoorbeeld je locatie- en taalinstellingen worden onthouden. Daarnaast houden ze bij het online winkelen je digitale winkelwagentje bij.
zelfmaakmode.startpagina.nl
Pink: There! On the horizon! Could it be … my long-lost love?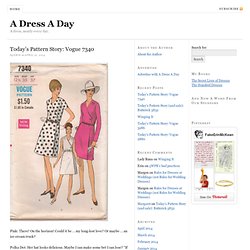 A Dress A Day
Gratis patronen | Naaipatronen.nl | zelfmaakmode patroon online
Sew Retro
Free vintage patterns for download!
Hi everyone! I've been on a mission lately, scouring the web for free sewing patterns to whip up this Easter break and came across a few fantastic vintage finds! These might have been posted before, but just in case they haven't, here they are for your sewing pleasure: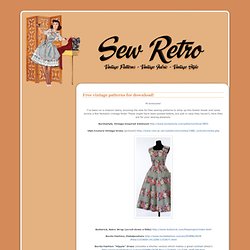 Craftster is a great place for all kinds of crafting info! You may have to sign up, but it's free. This page has online free patterns, but I find them a little tedious, because I don't have a large printing format printer. http://www.craftster.org/forum/index.php?topic=159624.0 This next page (also from craftster) has tutorials on dresses and clothes that don't neccesarily need a pattern, which can be easier!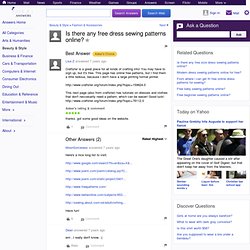 Is there any free dress sewing patterns online
List of Tutorials on Craftster in Clothing: General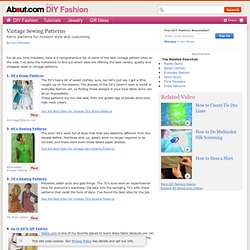 Vintage Sewing Patterns
For all you time travelers, here is a comprehensive list of some of the best vintage pattern sites on the web. I've done the homework to find out which sites are offering the best variety, quality and cheapest deals in vintage patterns. 1. 50's Dress Patterns SoVintagePatterns.com The 50's had a lot of sweet clothes, sure, but let's just say I got a little caught up on the dresses. The dresses of the 50's haven't seen a revisit in everyday fashion yet, so finding these designs in your local fabric store can be an impossibility.
your style rocks
Please consult our size comparison table, our table of body measurements and the "Patterns" section of our FAQs before you download and print a pattern. Favourite Frills Skirt Design by glamourie / Pattern by Your Style Rocks! This is the pattern for the Favourite Frills Skirt, as designed by glamourie for our Sophisticated Skirt contest.
red bird crafts
I was so happy to receive a copy of Amie Petronis Plumley and Andria Lisle's latest book, Sewing School 2 (Storey Publishing) in the mail, but before I could even peek at the pages, Leah (my eight-year-old) rushed off to her bedroom with it where she quickly flopped onto her bed and perused each page and project. Amie and Andria's first book, Sewing School , is one of my girl's favorites, so it came as no surprise that she would be beyond thrilled to lay eyes on the new book with exciting new projects. Plus, its focus is teaching children to use the sewing machine, which is always an exciting prospect around these parts. While I knew that Leah would be super excited to dig into this book, I almost forgot that my Hazel (five-years-old) is in a perfect place to begin learning to use a machine. She loves fabric, prints, wrapping fabric around her dolls, and hand stitching, so when I showed her the book and asked if she'd like to do a project with me, she was bouncing in anticipation.
Brassy Apple
Hey everyone! You don't know how stoked I am to be contributing to Brassy Apple today! I have come up with an easy sewing project for all of you to make not only for your little girls, but also for yourself! I kinda have an obsession with bows right now.
Bari J.
tutorials/recipes
Tutorials > amy a la mode