England
Culture24. C&H Canterbury Store. Spin A Yarn - The Shop for Wool and Yarn in Devon. The Wellington Hotel, Cornwall. House Of Bartlett - Wool Shop, St Ives, Cornwall. All sizes of Symphonie tips 3mm to 15mm, All cable sizes 40cm - 150mm.
Selected sizes of Symphonie short tips, Nova metal tips and acrylic tips, Symphonie Fixed circular in lace weight sizes and Symphonie DPN's. Symphonie Rose Box set, Symphonie interchangable Delux set, Nova interchangable Chunky set, Trendz acrylic set, Symphomie double ended Crochet Hook set, ring and Locking markers, cable needles and Chart Keepers. Selected sizes of Cubix DPN's. KB knitting looms,sock and large, other sizes can be ordered. The Old Ship Aground - Minehead's traditional harbour side pub. The Wool Shop - Minehead. The Bull Hotel.
B&B The Old House :: Over Bed & Breakfast The Old House. Evenhill Pub Hotel Restaurant Littlebourne Canterbury Kent. Woodfalls Inn Steakhouse, Redlynch, great atmosphere, extensive menu and spacious eating areas. B and B Torquay Barclay Court Bed And Breakfast in Torquay. Cyclists Welcome - CTC Maps. CTC Homepage - CTC the UK's national cyclists' organisation. The National Trails - the official guide. Walkingworld - Britain's walking community. Britain - Ramblers. RYA - The Royal Yachting Association. British Canoe Union. Zuid-Engeland. Dagboeknotities van een fietsreis langs de zuidkust van Engeland:van Dover tot Land's End in 10 dagen van 21/7 tot 1/8/2004 Door Jan Van Roosbroeck Opzet.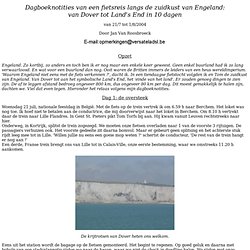 Engelse regio's : visitEngland. England Travel and Tourism Information. Vakantiebestemmingen Groot-Brittannie: Zuid-Engeland | Reizen en Recreatie: Europa. Eenmaal uit de Kanaaltunnel rijden de meeste vakantiegangers linea recta naar hun vakantiebestemming.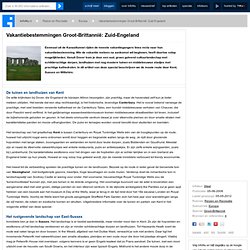 Wie de vakantie meteen na aankomst wil beginnen, heeft daartoe volop mogelijkheden. Vanuit Dover kom je door een oud, groen golvend cultuurlandschap met schilderachtige dorpen, landhuizen met nog mooiere tuinen en middeleeuwse stadjes met prachtige kathedralen. In dit artikel van deze special beschrijven we de mooie route door Kent, Sussex en Wiltshire. De tuinen en landhuizen van Kent. Vakantie - Met de auto door Zuid-Engeland. In april 2011 reisden journalist Hans Bouman en fotograaf Emile Luider door East Anglia in Engeland.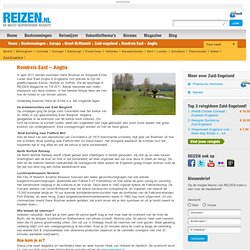 Om precies te zijn de graafschappen Essex, Norfolk en Suffolk. Zie de reportage in REIZEN Magazine no 7/8 2011. Bekijk hieronder een video-impressie van deze streken. Cross channel ferry port information.
---