Sexier stuff
kate-upton-jenna-leigh-lingerie-shoot-17-830x1056
Hot Chicks In Batman Shirts
30 belos motivos para gostar de uma ruiva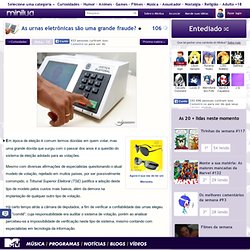 Próxima matéria » + Curiosidades Em época de eleição é comum termos dúvidas em quem votar, mas uma grande dúvida que surgiu com o passar dos anos é a questão do sistema de eleição adotado para as votações. Mesmo com diversas afirmações de especialistas questionando o atual modelo de votação, rejeitado em muitos países, por ser possivelmente corrompido, o Tribunal Superior Eleitoral (TSE) justifica a adoção deste tipo de modelo pelos custos mais baixos, além da demora na implantação de qualquer outro tipo de votação.
LOVELY PURPLE TOP PIC OF THE DAY | FRONT – The funniest, sexiest magazine on earth.
Inspiration: Sexy and Amazing Artwork by Arthur de Pins
Arthur de Pins was born in 1977 in Britain before coming to spend his entire adolescence in Versailles, France. Just take a look at some of his amazing and passionate illustrations. Most of it are quite funny, sexy and stylish, leaving no doubt that the creator has great sence of humour. Advertisment More works of this artist and other goodies – at Arthur de Pins webpage.
Emma Frost Cosplay Gallery [Pics] emma-alisakiss – Geeks are Sexy Technology News