SEO
valeur d'un site
Estimix - website traffic and value estimator
Logiciel référencement: Suivi, controle et analyse du référencement positionnement d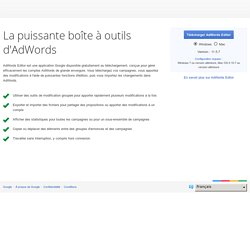 AdWords Editor : install sur computer
AdWords Editor est une application Google disponible gratuitement au téléchargement, conçue pour gérer efficacement les comptes AdWords de grande envergure. Vous téléchargez vos campagnes, vous apportez des modifications à l'aide de puissantes fonctions d'édition, puis vous importez les changements dans AdWords. Utiliser des outils de modification groupée pour apporter rapidement plusieurs modifications à la fois Exporter et importer des fichiers pour partager des propositions ou apporter des modifications à un compte
Pour les webmasters
Note: The SEO Starter Guide has since been updated. Webmasters often ask us at conferences or in the Webmaster Help Group, "What are some simple ways that I can improve my website's performance in Google?" There are lots of possible answers to this question, and a wealth of search engine optimization information on the web, so much that it can be intimidating for newer webmasters or those unfamiliar with the topic.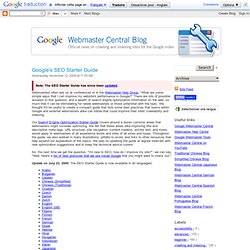 Vitesse du site - Centre d'aide Analytics
Utilisez les rapports "Vitesse du site" pour évaluer trois aspects liés aux temps de latence enregistrés par votre site :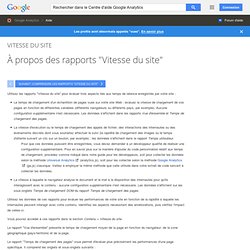 DoubleClick is the ad technology foundation to create, transact, and manage digital advertising for the world's buyers, creators and sellers. Learn about the Brand Activate initiative, an ongoing Google effort to make online measurement much more aligned and actionable for today's brand marketers. Read the full article We put some data behind some long-held assumptions, using metrics from Google publisher display platforms - and the results are in.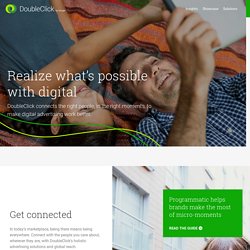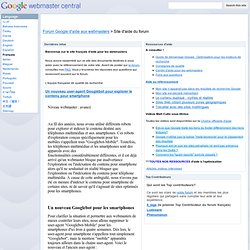 Français - Google Webmaster Help
L'utilisation des informations relatives à l'auteur permet aux internautes de trouver des informations intéressantes en mettant en surbrillance le contenu d'auteurs qui pourraient les intéresser dans les résultats de recherche. Si vous êtes un auteur, votre inscription en tant que tel permet aux utilisateurs d'identifier le contenu que vous avez publié. De plus, les internautes peuvent cliquer sur votre signature pour voir vos autres articles ou pour vous suivre sur Google+. C'est aussi simple que cela. Enfin, sauf en ce qui concerne quelques questions de niveau avancé auxquelles nous aimerions apporter une réponse… Informations relatives à l'auteur dans les résultats de recherche de l'un de mes auteurs préférés, John Mueller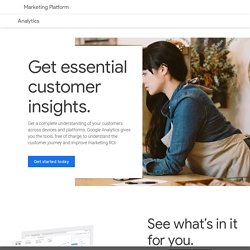 Surveillez l'activité de votre site au moment même où elle a lieu : identifiez immédiatement les éléments performants et ceux qui ne le sont pas. En savoir plus Vos investissements dans les médias sociaux méritent mieux que des tâtonnements. Procurez-vous des données et des informations directement exploitables. En savoir plus Découvrez comment vos canaux marketing interagissent pour générer des ventes et des conversions.