mixed fandoms
Get flash to fully experience Pearltrees
July 19, 2005 - Tada! Here we have a new look for the site (finally!).
Fullmetal Alchemist -- Two alchemist brothers and the consequences of Equivalent Trade.
Rakuen - Universe of Wrong I started writing, like many fanfic authors, at a tender high school age of 15 or therabouts. While you can bet that back in those days I was pretty enthusiastic about what I ran off on our old Microsoft 95er, these days I mostly look at it and cringe.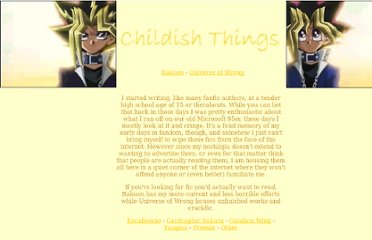 this is the original fanfiction archive of llamajoy & Tenshi no Korin, solely for works written between 1999 - 2007. authorship is noted beneath each title. this archive is not updated. for our current stories, see Odessa Castle .
Welcome to Boys Next Door!
This is the archive of fanfiction by Branch (and occasionally co-writers, like Lys ap Adin). All fic is indexed by fandom and tagged by pairing and character, for ease of browsing. I hope you enjoy your reading.
Due to problems with accessing and maintaining the website I'm hosting all fic at Archive of Our Own (AO3) now!