CREATIVITY
Creative tools > Tools for defining the problem Defining the problem is the first step of solving a creative problem. This is a very important stage, as changing the problem definition will change the solution.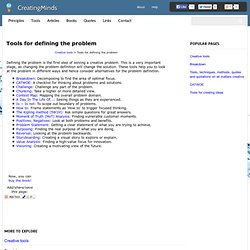 Tools for defining the creative problem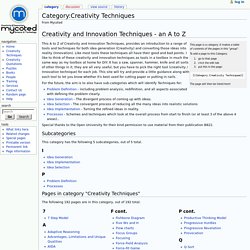 From Mycoted This A to Z of Creativity and Innovation Techniques, provides an introduction to a range of tools and techniques for both idea generation (Creativity) and converting those ideas into reality (Innovation). Like most tools these techniques all have their good and bad points. I like to think of these creativity and innovation techniques as tools in a toolbox in much the same way as my toolbox at home for DIY. It has a saw, spanner, hammer, knife and all sorts of other things in it, they are all very useful, but you have to pick the right tool (creativity / Innovation technique) for each job. This site will try and provide a little guidance along with each tool to let you know whether it's best used for cutting paper or putting in nails.
How To Get Creative | IdeaFisher 2.0 | ThoughtOffice Brainstorming Software (Build 20100824153629)
A lateral thinking process, brainstorming demands that people come up with ideas and thoughts that can seem shocking or crazy. By using these ideas as a starting point, you can then change and improve them into something useful and original. Below are the top 100 tools, tips, guides, and resources to help you think outside the box and maximize your ideas.