Gardening
The Fifteen Most Fabulous Herbal Sedatives : Kitchen Table Medicine. Do you ever just feel like you need to take a pill to take the edge off?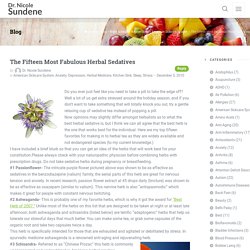 Well a lot of us get extra stressed around the holiday season, and if you don't want to take something that will totally knock you out, try a gentle relaxing cup of sedative tea instead of popping a pill. Now opinions may slightly differ amongst herbalists as to what the best herbal sedative is, but I think we can all agree that the best herb is the one that works best for the individual.
Buy Mail Order Plants, Seeds, & Bulbs - PlantScout - Dave's Garden. About Us Sign Up Log in Garden Watchdog PlantScout Classified Ads.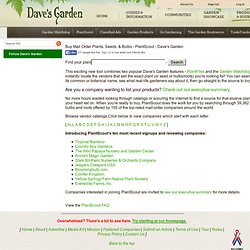 Guide to Gardening by Mail, Mail Order Gardening, and Catalogs. The Garden Watchdog is a free directory of 7,705 mail order gardening companies.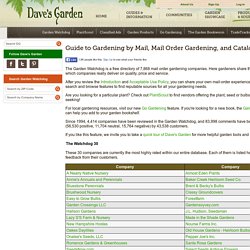 Here gardeners share their opinions on which companies really deliver on quality, price and service. After you review the Introduction and Acceptable Use Policy, you can share your own mail-order experiences, or use our search and browse features to find reputable sources for all your gardening needs. Are you looking for a particular plant? Check out PlantScout to find vendors offering the plant, seed or bulbs you're seeking! For local gardening resources, visit our new Go Gardening feature. Garden Guides, Your Guide to Everything Gardening.
---