Football
Liverpool Keen On Unsettled £20m Rated Manchester City Midfielder. Anfield outfit keeping an eye on developments at Eastlands.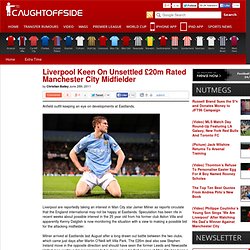 Liverpool are reportedly taking an interest in Man City star Jamer Milner as reports circulate that the England international may not be happy at Eastlands. Speculation has been rife in recent weeks about possible interest in the 25 year old from his former club Aston Villa and apparently Kenny Dalglish is now monitoring the situation with a view to making a possible bid for the attacking midfielder. Milner arrived at Eastlands last August after a long drawn out battle between the two clubs, which came just days after Martin O'Neill left Villa Park. The £26m deal also saw Stephen Ireland move in the opposite direction and should have seen the former Leeds and Newcastle United man continue his progression but in many ways his first season at Man City has been a stop/start one that has been punctuated by periods of poor form.
BBC. 21 April 2014 Last updated at 23:01 GMT Scores, Results & Fixtures Latest Football Sat 26 Apr 2014 - Premier League Southampton v Everton 12:45 Fulham v Hull 15:00 Stoke v Tottenham 15:00 Swansea v Aston Villa 15:00 West Brom v West Ham 15:00 Man Utd v Norwich 17:30 Sun 27 Apr 2014 - Premier League Sunderland v Cardiff 12:00 Liverpool v Chelsea 14:05 Crystal Palace v Man City 16:10 Mon 28 Apr 2014 - Premier League Arsenal v Newcastle 20:00 Sat 3 May 2014 - Premier League West Ham v Tottenham 12:45 Aston Villa v Hull 15:00 More fixtures Elsewhere on the BBC.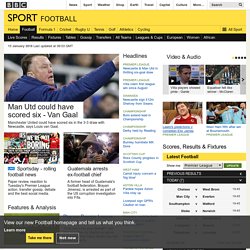 Gossip. 5 January 2014 Last updated at 23:35 GMT For a list of confirmed transfers, check out the transfers page.
Liverpool and Spurs are both considering a move for former Chelsea forward Salomon Kalou with the 28-year-old Lille player set to move back to the Premier League. Full story: Daily Mirror. Fixtures. Table. Liverpool. Liverpool results. Liverpool fixtures. Sky. Transfer Centre. Liverpool. Table. Telegraph. Blog. December 24th, 2012 13:36 Liverpool's New Year's resolution: more goals from midfield Liverpool look as if they are heading in the right direction as they enter 2013, after the 4-0 home win over Fulham.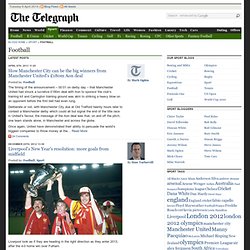 Although that romp only took them into eighth, two places lower than where they started the year, supporters have faith in Brendan Rodgers' eye for a player and his promotion of a pleasing brand of football. Liverpool. Guardian. Liverpool.
---