United nations
WomenWatch: WSIS 2005 Feature: Gender and ICT
WomenWatch: UN Entities
International Vacancies: New York, USA
Programme Specialist (HD & MDG), New York
UNIFEM Jobs
Ending violence against women is receiving increased attention from governments, civil society, donors and the UN system. This is an encouraging indication that this universal human rights violation is increasingly receiving the concern and support it merits. In response, the Global Safe Cities Free of Violence against Women and Girls Programme was initiated at UN Women Headquarters which was recently launched in New Delhi on November 22nd 2010. As the programme begins the next development phase, working in five pilot countries, with numerous global, UN, and implementing NGO and research partners, a Programme Associate is needed to support these processes in order to ensure effective delivery of this flagship initiative.
Social Policy Specialist (Poverty and Inequality), New York
Communication for Development Specialist (Social Change), New York
Communication for Development Specialist (Social Change) United Nations Children's Fund (UNICEF) United Nations Children's Fund Closing date: 04 Feb 2011 Location: United States of America (the) - New York Purpose of the Position
National Committees for UNIFEM - Partnerships - UNIFEM
National Committees for UN Women are independent non-governmental organizations that support the mission of UN Women through their dynamic membership programmes, advocacy, public education about UN Women and global women's issues, and fund raising efforts to support UN Women programmes worldwide. Currently, there are National Committees for UN Women in 18 countries: Australia [ contact | website ] Austria [ contact | website ] Canada [ contact | website ] Finland [ contact | website ] Germany [ contact | website ] Hungary [ contact | website ] Iceland [ contact | website ] Ireland [ contact | website ] Italy [ contact | website ] Japan [ contact | website ] New Zealand [ contact | website ] Norway [ contact ] Philippines [ contact | website ] Singapore [ contact | website ] Sweden [ contact | website ] Switzerland [ contact | website ] United Kingdom [ contact | website ] United States [ contact | website ]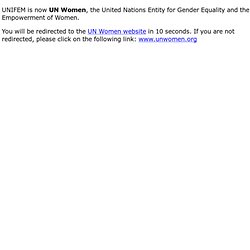 The UN Women, grounded in the vision of equality enshrined in the Charter of the United Nations, works for the elimination of discrimination against women and girls; the empowerment of women; and the achievement of equality between women and men as partners and beneficiaries of development, human rights, humanitarian action and peace and security. Placing women's rights at the centre of all its efforts, the UN Women will lead and coordinate United Nations system efforts to ensure that commitments on gender equality and gender mainstreaming translate into action throughout the world. It will provide strong and coherent leadership in support of Member States' priorities and efforts, building effective partnerships with civil society and other relevant actors.
cj_view_job
United Nations Institute for Training and Research (UNITAR)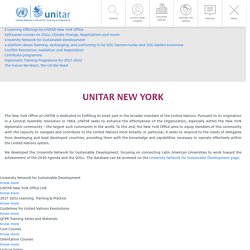 Workshop on Intellectual Property and Sustainable Development Organized by UNITAR and WIPO 6 and 7 February 2014 We would like to inform delegates from the Permanent Missions to the UN that UNITAR New York and the World Intellectual Property Organization (WIPO) will be holding a two and a half day workshop on Intellectual Property and Sustainable Development at the start of February, 2014. The workshop will take place from 10.00 a.m. until 5.00 p.m. on Thursday the 6th and from 10.00 a.m. until 1.00 p.m. on Friday the 7th at the WIPO Coordination Office located at 2 UN Plaza, Suite 2525, DC2, New York, NY, 10017. Please register online at www.unitar.org/event/unitarwipo-workshop-intellectual-property-and-sustainable-development
Current vacancies Research Assistant, Knowledge Systems Innovation, Research Department (Deadline for application: 4 october 2012) Please be informed that ( ) will be considered. Please specify the Title and Programme / Office of the vacancy you are applying for.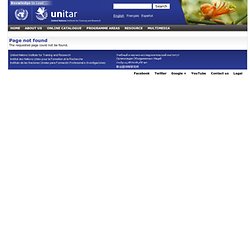 Vacancy Announcements
CDTNY_2011_Course%20list
Home
11-22 November 2013, Warsaw, Poland - More than 12,000 negotiators, observers and NGOs met in Warsaw, Poland from 11-22 November 2013 for the 19th Conference of the Parties (COP 19) to the UN Framework Convention on Climate Change (UNFCCC). The talks in Warsaw were not dramatic, though hard fought at times, and have kept the process on track towards a new universal agreement on climate change in 2015. Significant decisions were made in the area of deforestation, and loss and damage.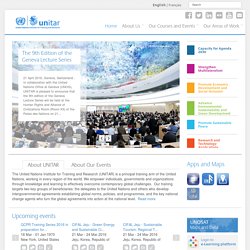 | Description | Qualifications | Training | Contract | Outcomes | JPO Service Centre | Description The Junior Professional Officer (JPO) Programme provides young professionals pursuing a career in development with hands-on experience in multi-lateral technical co-operation. The JPO Programme is administered by the JPO Service Centre (JPOSC) for the following organizations: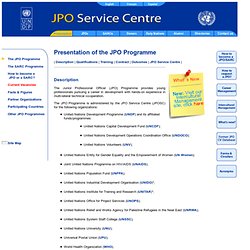 Junior Professional Officer Service Centre
EVAW
A World of Development Experience Put your ideas, experience and expertise to work. At the United Nations Millennium Summit, the world's leaders pledged to cut global poverty in half by 2015. The United Nations Development Programme is charged with helping make this happen. We want your help to do it.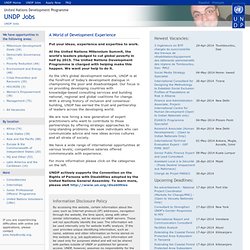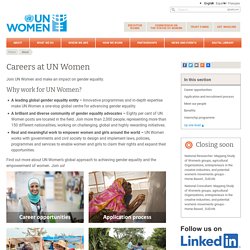 Employment
Current Vacancies | Experts and Trainers RosterJPO Opportunities | Internship Programme The United Nations Entity for Gender Equality and the Empowerment of Women (UN Women) is now hiring expert practitioners for the following assignments. Note: The UN Women Personal History Form (P11) is required when applying for all vacancies and must be attached as part of online application in place of CV/résumé. Current Vacancies