Software Dev
This image illustrates the difference between bitmap and vector images. The bitmap image is composed of a fixed set of dots, while the vector image is composed of a fixed set of shapes.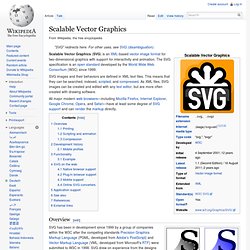 Hibernate Best Practices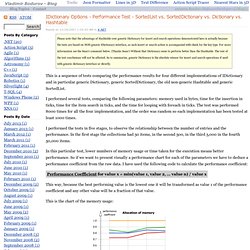 IDictionary Options - Performance Test - SortedList vs. SortedDictionary vs. Dictionary vs. Hashtable
Please note that the advantage of Hashtable over generic Dictionary for insert and search operations demonstrated here is actually because the tests are based on NON generic IDictionary interface, so each insert or search action is accompanied with check for the key type.
C# Reference
Open Source Rule Engines in C#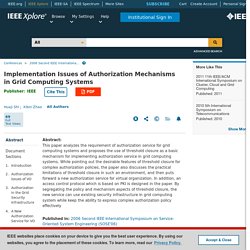 This paper analyzes the requirement of authorization service for grid computing systems and proposes the use of threshold closure as a basic mechanism for implementing authorization service in grid computing systems. While pointing out the desirable features of threshold closure for complex authorization policies, the paper also discusses the practical limitations of threshold closure in such an environment, and then puts forward a new authorization service for virtual organization. In addition, an access control protocol which is based on PKI is designed in the paper.
Implementation Issues of Authorization Mechanisms in Grid Computing Systems
By default, the object instance that is created in an object graph by processing a XAML object element does not possess a unique identifier or object reference.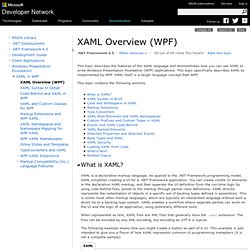 XAML Overview (WPF)
An enterprise is using Messaging to enable applications to communicate.
Enterprise Integration Patterns - Messaging Bridge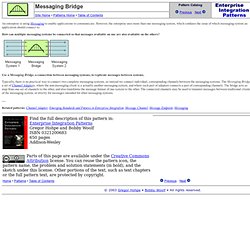 Windows Workflow Foundation is a framework that enables users to create system or human workflows in their applications written for Windows Vista, Windows XP, and the Windows Server 2003 operating systems. It consists of a namespace, an in-process workflow engine, and designers for Visual Studio 2005. Windows Workflow Foundation can be used to solve simple scenarios, such as showing UI controls based on user input, or complex scenarios encountered by large enterprises, such as order processing and inventory control. Windows Workflow Foundation comes with a programming model, a rehostable and customizable workflow engine, and tools for quickly building workflow-enabled applications on Windows. Scenarios that Windows Workflow Foundation addresses include: Enabling workflow within line-of-business applications.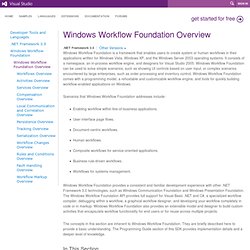 Windows Workflow Foundation Overview
Demos - APE (Ajax Push Engine) :: Comet server :: Real time data streaming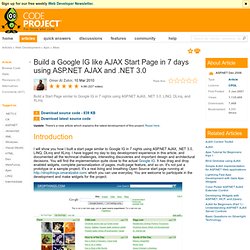 Build a Google IG like AJAX Start Page in 7 days using ASP.NET AJAX and .NET 3.0
Update : There's a new article which explains the latest development of this project.
Chapter 1.
Chapter 1. Using Spring AMQP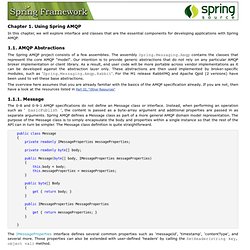 Web Service Security: Scenarios, Patterns, and Implementation Guidance for Web Services Enhancements (WSE) 3.0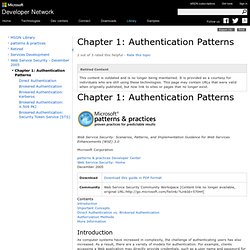 Chapter 1: Authentication Patterns
WPF Command-Pattern Applied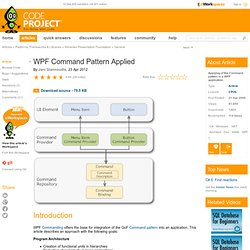 Introduction
Complex Layout Demo
Layouts Inside Tabs
Mauris mauris ante, blandit et, ultrices a, suscipit eget, quam. Integer ut neque. Vivamus nisi metus, molestie vel, gravida in, condimentum sit amet, nunc.
Layouts Inside Tabs
Mauris mauris ante, blandit et, ultrices a, suscipit eget, quam.
Developing Widgets with ASP.NET, WCF, and jQuery
Introduction
HTML5Trends.com | HTML5 News | HTML5 Views | HTML5 Tutorials
http://www.softdevtools.com/
Best practices for software development projects
© Copyright International Business Machines Corporation 2003. All rights reserved.