Own Collection
Gafas de sol
Make Eyewear - Infinitely Customizable Eyewear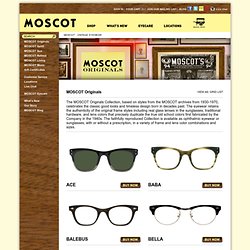 The MOSCOT Originals Collection, based on styles from the MOSCOT archives from 1930-1970, celebrates the classic good looks and timeless design born in decades past. The eyewear retains the authenticity of the original frame styles including real glass lenses in the sunglasses, traditional hardware, and lens colors that precisely duplicate the true old school colors first fabricated by the Company in the 1940s.
Vintage Eyewear | MOSCOT Originals
Karen Walker | Karen Walker Eyewear
In 2006, TOMS founder Blake Mycoskie befriended children in a village in Argentina and saw that they didn't have adequate shoes to protect their feet. Wanting to help, he created TOMS Shoes, a company that would match every pair of shoes purchased with a pair of new shoes for a child in need.
Sunglasses, TOMS Eyewear, Official One for One Store | TOMS.com/Eyewear
Classic Specs
BonLook - Vintage Eyeglasses
Mezzmer.com
Tortoise & Blonde
Sneaking Duck Australia
Eyefly
Lookmatic - Geek Chic