Own Collection
Gafas de Sol Westcoast Después de una buena temporada el verano anterior, y ya desde sus inicios Westcoast Sunglasses ha demostrado ser un importador comprometido con la calidad de sus gafas de sol, así como un distribuidor destacado por el buen servicio y la entrega efectiva y rápida de sus gafas de sol de diseño. Sube tu Foto y prueba
Gafas de sol
Make Eyewear - Infinitely Customizable Eyewear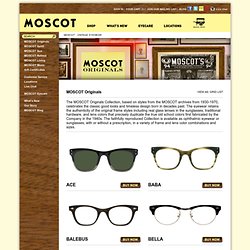 The MOSCOT Originals Collection, based on styles from the MOSCOT archives from 1930-1970, celebrates the classic good looks and timeless design born in decades past. The eyewear retains the authenticity of the original frame styles including real glass lenses in the sunglasses, traditional hardware, and lens colors that precisely duplicate the true old school colors first fabricated by the Company in the 1940s. The faithfully reproduced Collection is available as ophthalmic eyewear or sunglasses, with or without a prescription, in a variety of frame and lens color combinations and sizes.
Vintage Eyewear | MOSCOT Originals
Karen Walker | Karen Walker Eyewear
In 2006, TOMS founder Blake Mycoskie befriended children in a village in Argentina and saw that they didn't have adequate shoes to protect their feet. Wanting to help, he created TOMS Shoes, a company that would match every pair of shoes purchased with a pair of new shoes for a child in need. One for One.® In 2011, the One for One model was expanded and TOMS Eyewear was launched. With every pair purchased, TOMS helps restore sight to a person in need. One for One.
Sunglasses, TOMS Eyewear, Official One for One Store | TOMS.com/Eyewear
Try Them on at Home for Free We understand buying eyewear online isn't easy and we're ready to help. You can try up to six frames for free in the comfort of your home (we cover all shipping charges).
Classic Specs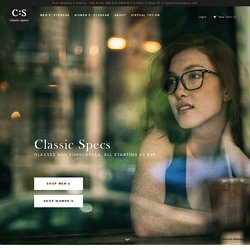 BonLook - Vintage Eyeglasses
Mezzmer.com
Free Home Try On, Free Shipping & Returns Try Them On First! 5 pairs, 10 days, 100% free! We'll send you up to 5 pairs of glasses to try on at home for 10 days free, we'll include a pre-paid return shipping label to send them back to us with no obligation to buy. Available to anyone in the contiguous 48 states. LEARN MORE HERE >
Tortoise & Blonde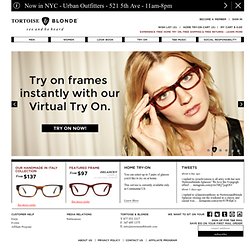 Sneaking Duck Australia
Build a wardrobe of cool prescription glasses We love cool prescription glasses and sunglasses and we love having eyewear for every mood. We're tired of having one mega-expensive pair of frames we wear until they break. In just a few clicks, build a wardrobe of frames to match every outfit. Online prescription glasses: Australia and the rest of the planet We'll happily ship our stylish prescription glasses to Sydney, Brisbane, Melbourne, Hobart, Adelaide, Perth, Darwin and anywhere else in Australia for that matter.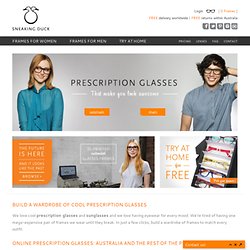 Eyefly
Lookmatic - Geek Chic