Sourdough Bread
Wild Yeast. Northwest Sourdough. How to Make a Sourdough Starter: Day One — Pinch My Salt. Today we begin the great sourdough starter experiment.
The goal of this experiment is to catch some wild yeast and try to keep them happy so that they will multiply. By harnessing the power of wild yeast in a sourdough starter, we'll eventually be able to bake bread without using any commercial yeast at all. That's what traditional sourdough is – a bread leavened by wild yeast. The process can be very technical and scientific, but I'm not going to delve into all those boring details right now.
Science of Bread: Basic Sourdough Starter Recipe. In addition to flour, water, and yeast, your starter also contains bacteria.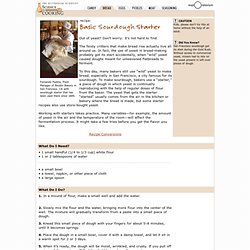 When these bacteria feed on the sugars in flour, they produce acidic by-products. This is what gives sourdough its sour taste. TMF: baking bread / Living Below Your Means.
---