MAREX
RBC Capital Markets - About RBCCM - Executive Team. Patti Perras Shugart Head, Global Corporate Banking Patti Perras Shugart is Head of Global Corporate Banking, a global business which includes management of an authorized loan portfolio in excess of $175 billion and 165 professionals in 9 offices across Canada, New York, Houston, Dallas, London, Sydney, and Hong Kong.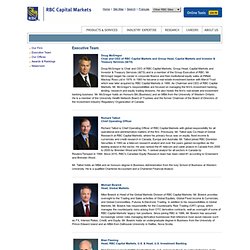 Ms. LCH.Clearnet Group. ICE: Homepage. Clearing house (finance) Once a trade has been executed by two counterparties either on an exchange, or in the OTC markets, the trade can be handed over to a clearing house, which then steps between the two original traders' clearing firms and assumes the legal counterparty risk for the trade.
This process of transferring the trade title to the clearing house is called novation. It can take fractions of seconds in highly liquid futures markets; or days, or even weeks in some OTC markets. Welcome to Marex Financial. GlobeOp - A global leader in hedge fund administration, financial technology. Commodities News and Market Data.
---