Versioning & Production
Sonar (software quality)
Sonar is an open source software quality platform. Sonar uses various static code analysis tools such as Checkstyle , PMD , FindBugs to extract software metrics, which then can be used to improve software quality. [ 1 ] [ edit ] Features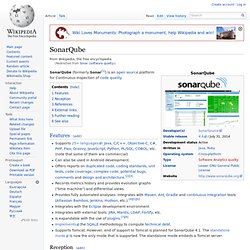 Open Source Features
Java SE 7 — Java.net
Maven Integration (m2e) The goal of the m2ec project is to provide a first-class Apache Maven support in the Eclipse IDE, making it easier to edit Maven's pom.xml, run a build from the IDE and much more.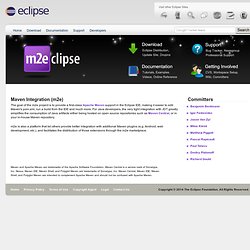 m2eclipse
The Build Artifact Repository Manager
The Bug Genie ~ Friendly issue tracking
WebSVN - Online subversion repository browser
subclipse.tigris.org
YAML
YAML ( pron.: / ˈ j æ m əl / , rhymes with camel ) is a human-readable data serialization format that takes concepts from programming languages such as C , Perl , and Python , and ideas from XML and the data format of electronic mail ( RFC 2822 ).