Luxury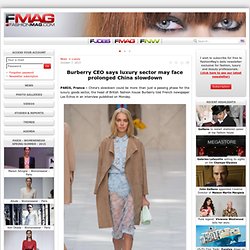 PARIS, France - China's slowdown could be more than just a passing phase for the luxury goods sector, the head of British fashion house Burberry told French newspaper Les Echos in an interview published on Monday. The Chinese economy's 2013 growth looks set to meet the government's 7.5 percent target, but that would still represent the slowest pace of expansion in 23 years. A recent government crackdown on conspicuous spending has also hit sales of luxury items. "This Chinese slowdown is maybe not a temporary accident but a new normal," Burberry Chief Executive Angela Ahrendts was quoted as saying. Shares of Burberry were down 1.7 percent at 16 pounds by 0755 GMT.
Burberry CEO says luxury sector may face prolonged China slowdown - News : Luxury (#360361)
Meet the world's sexiest flash drive. Designers in San Francisco have developed a new gadget that not only stores your data via a USB port but doubles as a sleek, "quiet" vibrator. The Crave Duet USB vibrator comes in two models, 8GB and 16GB, and its waterproof, dual-motor design is USB-rechargeable and comes in three colors — chocolate, black, and crimson.
Crave Duet USB Vibrator & Flash Drive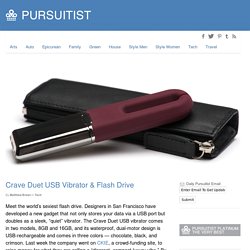 GoPayment: Overview
Kunar Patel, AdAge Earlier this week, AdAge featured a story on Estee Lauder's social media outreach. Estee Lauder used social media to make an ingenious connection to current, new and could be/would be customers by offering free makeovers and photo shoots at its department-store cosmetics counters coast-to-coast.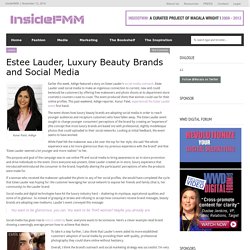 Estee Lauder, Luxury Beauty Brands and Social Media «FMM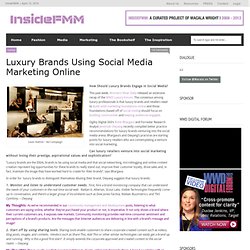 Louis Vuitton - Ad Campaign
Alexander McQueen
Fashion Brands, Social Media and Real Time Live Streaming «FMM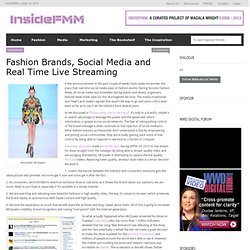 Macala's Musings - Thoughts, Insights and Adventures in Fashion
The Good Enough Revolution: When Cheap and Simple Is Just Fine
Building a Solid Foundation for Luxury Online - Fashion and Desi
Luxury Lifestyle Magazine | Online Luxury Lifestyle Blog
Fashion Marketing
Luxury Brands and their adoption of social media is the topic du jour.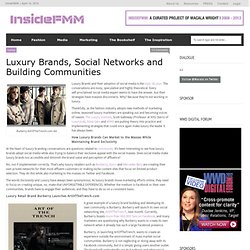 Luxury Institute Homepage
Digital IQ Index « Luxury Lab The Art and Science of Luxury
Women's T Shirts - Fashion Accessories & T Shirts | Michael Star
California Apparel Industry | Fashion Industry News | LA Fashion