Physics
Singularity Theory May Explain Fermi Paradox - StumbleUpon. The Drake equation demonstrates that due to the vast scope of our universe, it is highly unlikely that there is not intelligent life other than us.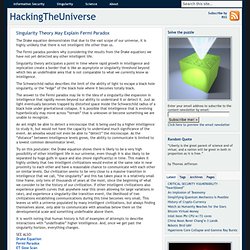 The Fermi paradox ponders why (considering the results from the Drake equation) we have not yet detected any other intelligent life. Singularity theory anticipates a point in time where rapid growth in intelligence and replication create a border that is like an asymptote or singularity threshold beyond which lies an undefinable area that is not comparable to what we currently know as intelligence. The Schwarzchild radius describes the limit of the ability of light to escape a black hole singularity, or the "edge" of the black hole where it becomes totally black. The answer to the Fermi paradox may lie in the idea of a singularity-like expansion in intelligence that rapidly moves beyond our ability to understand it or detect it. The Tenth Dimention. The Ultimate Field Guide to Subatomic Particles - io9 - StumbleUpon.
This is, for the most part, an accurate article, except for a few statements.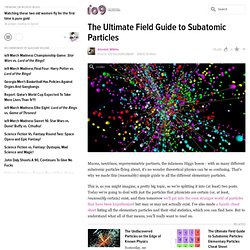 "Exactly what makes a fermion a fermion is a bit complicated, but suffice it to say that fermions are all the particles that deal with matter. So what about the last group of elementary particles, the ones that don't deal with matter? These are the bosons, and they deal with the fundamental forces of the universe. " The statements above can be misinterpreted as suggesting that fermions are defined as particles that deal with matter and bosons are defined as particles that deal with forces. And that is not true. Physics. Brian Greene on string theory.
---