Physics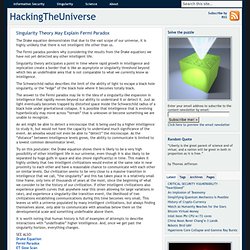 The Drake equation demonstrates that due to the vast scope of our universe, it is highly unlikely that there is not intelligent life other than us. The Fermi paradox ponders why (considering the results from the Drake equation) we have not yet detected any other intelligent life. Singularity theory anticipates a point in time where rapid growth in intelligence and replication create a border that is like an asymptote or singularity threshold beyond which lies an undefinable area that is not comparable to what we currently know as intelligence. The Schwarzchild radius describes the limit of the ability of light to escape a black hole singularity, or the "edge" of the black hole where it becomes totally black. The answer to the Fermi paradox may lie in the idea of a singularity-like expansion in intelligence that rapidly moves beyond our ability to understand it or detect it.
Singularity Theory May Explain Fermi Paradox - StumbleUpon
@ ledzep23 : "I was referring to the effects of particles combining after the Big Bang!(If any) That's one of the things they're trying to do, right?" Particles combine(d) in different ways at different times after the Big Bang. The LHC is working at an energy scale that is close to the Big Bang but not close enough for quantum gravity effects to be significant. "They're trying to find the Higgs Boson and something that has to do with Anti Matter, etc."