Optimization
Poul-Henning Kamp
You're Doing It Wrong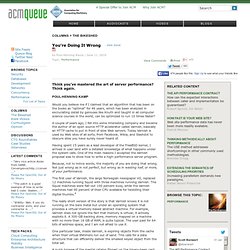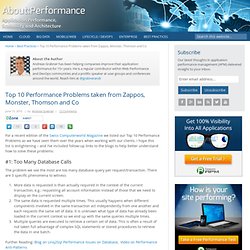 For a recent edition of the Swiss Computerworld Magazine we listed our Top 10 Performance Problems as we have seen them over the years when working with our clients. I hope this list is enlightening – and I've included follow-up links to the blogs to help better understand how to solve these problems: #1: Too Many Database Calls The problem we see the most are too many database query per request/transaction. There are 3 specific phenomena to witness More data is requested is than actually required in the context of the current transaction, e.g.: requesting all account information instead of those that we need to display on the current screen.The same data is requested multiple times.
Top 10 Performance Problems taken from Zappos, Monster, Thomson and Co Performance, Scalability and Architecture – Java and .NET Application Performance Management (dynaTrace Blog)
Cowboy Programming » Mature Optimization
This article originally appeared in the "Inner Product" column in Game Developer Magazine, January 2006 Last month I described an optimization that needs to be done early on in a project, if it is to be done at all.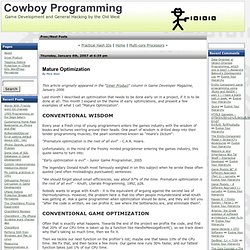 Ubiquity - The Fallacy of Premature Optimization