Fonts
The Linq to SQL designer is broken in my installation of VS 2008, whenever i try to open a dbml file i get a message box saying "The operation could not be completed" (Very usefull error!) Ive been working on a VS addin which uses linq, everything was working fine yesterday but when i tried to open the project today it wouldnt compile because of the following error Error 1 Build failed due to validation errors in [...]IssueTrackerDataContext.dbml. Open the file and resolve the issues in the Error List, then try rebuilding the project.[...]\IssueTrackerDataContext.dbml 1 and when i tried to open the dbml file i get an error "Error encountered, check error list window for details"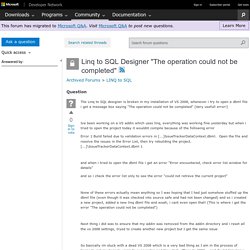 Linq to SQL Designer "The operation could not be completed&
How to: Enable Client-Side Script Debugging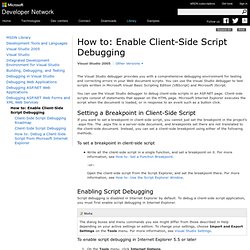 The Visual Studio debugger provides you with a comprehensive debugging environment for testing and correcting errors in your Web document scripts. You can use the Visual Studio debugger to test scripts written in Microsoft Visual Basic Scripting Edition (VBScript) and Microsoft JScript. You can use the Visual Studio debugger to debug client-side scripts in an ASP.NET page. Client-side scripts consist of statements that appear on the HTML page.
At my job on the C# IDE QA team I've learned some useful things about debugging in Visual Studio, which I'd like to summarize in this post. Although the screenshots were made using Visual Studio 2008 SP1, this pretty much applies to other versions of VS as well. Rich debugging support When you develop your C# application and hit F5, the target process (your program) gets started, and then the Visual Studio process attaches the debugger to the process where your code is running. This way, you can break into the debugger and VS will provide you with all sorts of rich debugging support - current statement highlighting, call stack, watches, locals, immediate window, Edit-and-Continue and so on. More importantly, if your application throws an exception or crashes, the debugger will intercept that and provide your with all the information about the exception.
Kirill Osenkov : How to debug crashes and hangs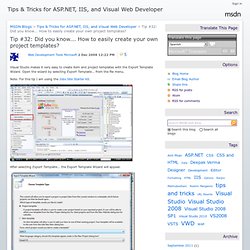 Visual Studio makes it very easy to create item and project templates with the Export Template Wizard. Open the wizard by selecting Export Template... from the file menu. Note: For this tip I am using the Jobs Site Starter Kit . After selecting Export Template... the Export Template Wizard will appear.
Tips & Tricks for ASP.NET, IIS, and Visual Web Developer : T
How to: Move Your Team Foundation Server from One Hardware Confi
Home / MVC 5 Minute Video ASP.NET MVC gives you a powerful, patterns-based way to build dynamic websites that enables a clean separation of concerns and that gives you full control over markup for enjoyable, agile development. ASP.NET MVC includes many features that enable fast, TDD-friendly development for creating sophisticated applications that use the latest web standards. Install Visual Studio Express 2012 for Web Free Have nothing?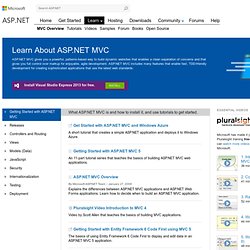 Walkthrough: Creating a Basic MVC Project with Unit Tests in Vis
Essential Visual Studio Tips & Tricks that Every Developer S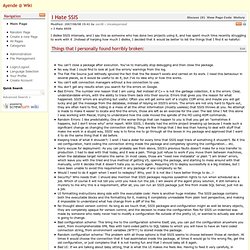 I dislike SSIS intensely, and I say this as someone who has done two projects using it, and has spent much time recently struggling to work with it .Instead of harping how much I dislike, I decided that it would be better to list the things that I find it so hateful: Edit You can't close a package after execution. You've to manually stop debugging and then close the package. No way that I could find to look at just the errors/ warnings from the log.
I Hate SSIS - Ayende @ Wiki
Download details: Consolas Font Pack
Overview Consolas is intended for use in programming environments and other circumstances where a monospaced font is specified. All characters have the same width, like old typewriters, making it a good choice for personal and business correspondence. Optimizing the font specifically for ClearType allowed a design with proportions closer to normal text than traditional monospaced fonts like Courier. This allows for more comfortable reading of extended text on-screen.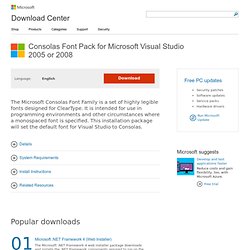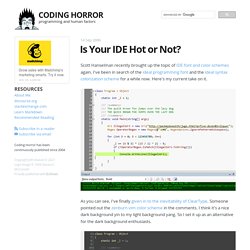 Is Your IDE Hot or Not?
September 14, 2006 Scott Hanselman recently brought up the topic of IDE font and color schemes again. I've been in search of the ideal programming font and the ideal syntax colorization scheme for a while now.
Mike Lorengo's Weblog : Development Nirvana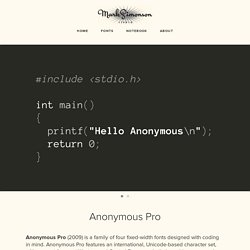 Anonymous Pro (2009) is a family of four fixed-width fonts designed with coding in mind. Anonymous Pro features an international, Unicode-based character set, with support for most Western and Central European Latin-based languages, plus Greek and Cyrillic. Anonymous Pro is based on an earlier font, Anonymous™ (2001), my TrueType version of Anonymous 9, a Macintosh bitmap font developed in the mid-'90s by Susan Lesch and David Lamkins. Anonymous Pro is distributed with the Open Font License ( OFL ). There are two versions: Anonymous Pro and Anonymous Pro Minus.
Proggy Programming Fonts