Mobile Tech - Workshop Links
Conceptboard - Realtime Teamwork & Collaboration Software. Google Drive. TodaysMeet. TweetChat. ScreenChomp. Description Share a great idea...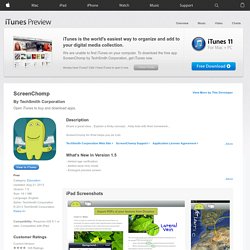 Explain a tricky concept... Help kids with their homework... Conversations in the cloud. SCVNGR. Augmented Reality Browser: Layar. Educational Uses Of Flickr. Khan Academy. Dragon Dictation. Description Dragon Dictation is an easy-to-use voice recognition application powered by Dragon® NaturallySpeaking® that allows you to easily speak and instantly see your text or email messages.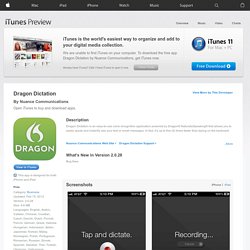 In fact, it's up to five (5) times faster than typing on the keyboard. With Dragon Dictation you can also dictate status updates directly to your Social Networking applications (Facebook and Twitter) or send notes and reminders to yourself….all using your voice. Blog - Pennington English. Socrative - Teacher Login. Age Restrictions.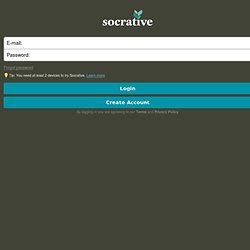 You may only use the Site and Services if you are: (i) at least 13 years of age; or (ii) if you are under 13 years of age, with the consent of your teacher or a legal parent or guardian. By using the Site and Services, you hereby represent and warrant that you are at least 13 years of age or, if you are under 13 years of age, that you have the consent of your teacher, legal parent, or guardian to use the Site and Services. Verification of Identity. You acknowledge that we may choose, but are not obligated, to make any inquiries, either directly or through third parties, that we deem necessary to validate any user's registration information, including without limitation engaging third parties to provide identity or other verification services.
Socrative reserves all rights to take legal action against anyone who misrepresents personal information or is otherwise untruthful about their identity in connection with their use of the Services. PollEverywhere1. PollEverywhere2. Wiffiti | Locamoda. Google Mobile. Celly: Instant Group Text and Polls | Mobile Learning | Text to Screen.
Google Voice - One phone number, online voicemail, and enhanced call features.
---