Usefull tips&tricks
30 Life-Enhancing Things You Can Do in 30 Minutes or Less. Post written by: Marc Chernoff Email Many of us attempt to measure our happiness based on the duration of certain favorable experiences in our lives.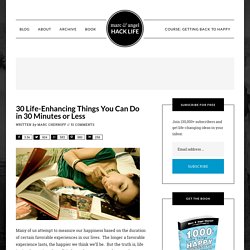 2012 March 12 - The Scale of the Universe Interactive. Discover the cosmos!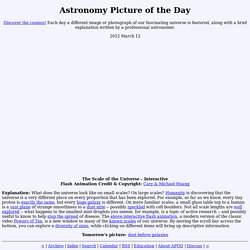 Each day a different image or photograph of our fascinating universe is featured, along with a brief explanation written by a professional astronomer. 2012 March 12 The Scale of the Universe - Interactive Flash Animation Credit & Copyright: Cary & Michael Huang. International Cost of Living Comparisons. Biography Base Home. Still life: Bent objects & OWNI.eu, News, Augmented. UPDATE: The Return of Bent Objects Wires transform these objects from inanimate to hilarious works of art.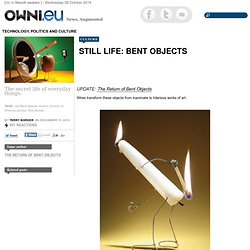 Little polish girl. "What if..." Movies reimagined for another time & place on the Behance Network. Wind Power Without the Blades: Big Pics. 10 Instant Emotional Fitness Tools. When things get out of control and you momentarily lose your emotional balance, there are any number of little things you can do to regain it.
Here are ten tools to help get you started. 1. A chemical that can turn your organs transparent. Tom Robinson Travel Photography: Central America. The Top 10 Psychology Studies of 2010. The end of 2010 fast approaches, and I'm thrilled to have been asked by the editors of Psychology Today to write about the Top 10 psychology studies of the year.
I've focused on studies that I personally feel stand out, not only as examples of great science, but even more importantly, as examples of how the science of psychology can improve our lives. Each study has a clear "take home" message, offering the reader an insight or a simple strategy they can use to reach their goals , strengthen their relationships, make better decisions, or become happier.
If you extract the wisdom from these ten studies and apply them in your own life, 2011 just might be a very good year. Robot Skin Can Feel Touch, Sense Chemicals, and Soak Up Solar Power. When you meet your robot overlord, it may be wearing super-intelligent skin designed by a Stanford researcher--a solar-powered, super-sensitive, chemical-sampling covering that makes your meatbag covering look pathetic.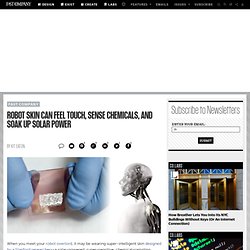 Zhenan Bao is behind the advances, and the recent development centers on a stretchable solar cell system that can expand and shrink along two different axes, making it perfect for incorporation into artificial skin for robots, human prosthetic limbs, or even clothing. Bao's earlier successes with artificial skin have resulted in a highly flexible and durable material, which is part of a flexible organic-chemistry transistor, built on a thin polymer layer. Crashcourse. Peter blaskovic | escape motions. This is my experimental research in field of art, graphics, math, physics...
I have fun to mix different subjects together and finding a new ways of expression. Some of them have great usage in new medias, production or simulations, some of them are just for fun. :) Experiments are created in Processing or Flash . Processing is a great open source programming language for artists. Breathingearth - CO2, birth &death rates by country, simulated real-time - StumbleUpon. Albion Basin, Utah - 360 Degree Immersive Panorama - StumbleUpon. Albion Basin, near the ski resort of Alta, Utah is renowned for its abundance of summertime wildflowers, and the area offers several great hiking and biking trails.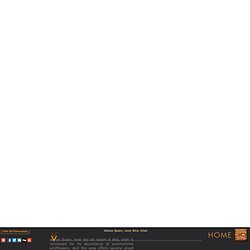 During this visit I encountered a moose, and briefly considered a career as some sort of wildlife panorama photographer, until I came to my senses and realized that any such career could be short lived. Once the summer wildflowers have passed, autumn hikes offer a calm and peace all their own. - Martin van Hemert. - StumbleUpon. Pranav Mistry: The thrilling potential of SixthSense technology | Video on TED.com - StumbleUpon.
- StumbleUpon. Spreadsheets - StumbleUpon. Last Updated: 4/16/2013 (and Fluid Mechanics, PDE's, Thermodynamics and Numerical Methods, too) Usage, Disclaimer, Notes.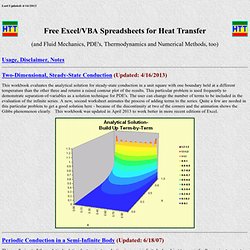 Metals Like Plastics: Meet the Supermaterial That Could Change Gadgets | Fast Company - StumbleUpon. Picture a metal that's so clever it can be blown into a mold like plastic materials, then think of the amazing gadgets that could be crafted from it--things that make Apple's unibody Macs look like child's play.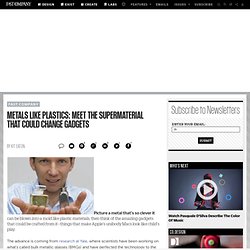 The advance is coming from research at Yale, where scientists have been working on what's called bulk metallic glasses (BMGs) and have perfected the technology to the point it's as useful, potentially, as everyday thermoplastics are today. Metals are essentially crystalline on an atomic level. Their atoms, when in solid state, are arranged in pretty regular arrays, lined up neatly in rows and layers like the carbon atoms in a diamond. Learn morse code. Udemy - Academy of You | Find and Create Online Courses.
---