IWB's
Digital Classroom | Promethean Interactive Whiteboards and the ActivClassroom | Digital Classroom Home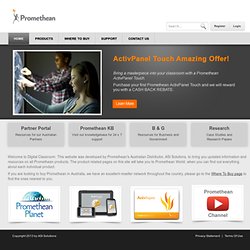 Welcome to Digital Classroom. This website was developed by Promethean's Australian Distributor, ASI Solutions, to bring you updated information and resources on all Promethean products. The product related pages on this site will take you to Promethean World, when you can find out everything about each individual product. If you are looking to buy Promethean in Australia, we have an excellent reseller network throughout the country, please go to the Where To Buy page to find the ones nearest to you.
iwb.org.uk ~ Free Interactive Whiteboard Resources
iwbNet supports digital classrooms and digital schools in the K-12 school education sector. Through its conferences and other products, it provides superior quality professional development in the use of interactive digital technology for teaching and learning and for school leadership. We are a team of educators, teacher trainers and experienced administrators who have worked positively and with influence in the K-12 school education sector for the past 10 years.
IWB.net.au - IWBNet - Leaders in interactive teaching and learning