Library Stuff
Newspaper map | all online newspapers in the world, translate with one click. Jobs. Cataloging. Knowledge Management (KM) Intro To Inform Professions. 100 Free Library 2.0 Webinars and Tutorials | College@Home. If you've heard the buzz about Library 2.0, but don't quite understand how to implement it, you've come to the right place.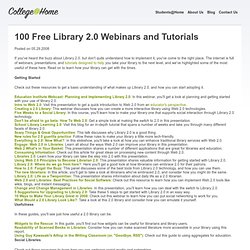 The internet is full of webinars, presentations, and tutorials designed to help you take your library to the next level, and we've highlighted some of the most useful of these here. Read on to learn how your library can get with the times. Getting Started Check out these resources to get a basic understanding of what makes up Library 2.0, and how you can start adopting it. Education Institute Webcast: Planning and Implementing Library 2.0: In this webinar, you'll get a look at planning and getting started with your use of library 2.0.
Special Collections
Librarians: Masters of the info universe. CNN librarian Kerith Page McFadden works at her desk in Washington.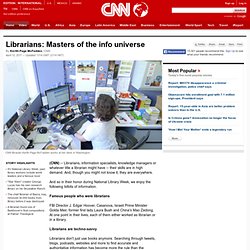 It's National Library Week; past library workers include world leaders and a famous lover"Star Wars" creator George Lucas has his own research library on his Skywalker Ranch.The chief librarian of Basra, Iraq, removed 30,000 books from library before it was destroyedA librarian found one of Beethoven's final compositions at Palmer Theological (CNN) -- Librarians, information specialists, knowledge managers or whatever title a librarian might have -- their skills are in high demand. And, though you might not know it, they are everywhere.
Free eBooks by Project Gutenberg. MLA-Phil. Welcome to NN/LM's Middle Atlantic Region. Dshelley0/library. In the Library with the Lead Pipe. Home | ReadKiddoRead.com. Review Sites. Library Success: A Best Practices Wiki. Clarion Home. ASLAPR - Collection Development Training.
Full Text Electronic Journal List. IUPUI The School Library Media Specialist: Course Materials. Welcome to S671: School Media This website was designed primarily as a graduate course (S671) offered at Indiana University at Indianapolis, however the materials are available to anyone who wants to learn more about school library media specialists and programs.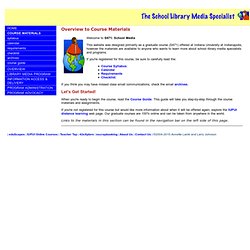 If you're registered for this course, be sure to carefully read the: If you think you may have missed class email communications, check the email archives. When you're ready to begin the course, read the Course Guide. Access Pennsylvania.
---