Journals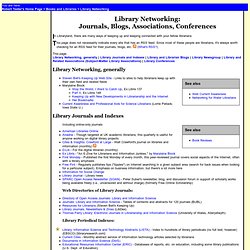 In Libraryland, there are many ways of keeping up and keeping connected with your fellow librarians
Library Networking: Journals, Blogs, Associations, etc.
Library Networking: Journals, Blogs, Associations, etc.
Developing Library and Information Center Collections - web references
Searcher's Voice - The Lost Art of Sourcing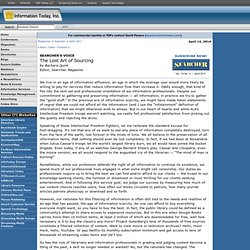 SEARCHER'S VOICE The Lost Art of Sourcing by Barbara Quint Editor, Searcher Magazine
Library Technology Guides: Discovery Layer Interfaces
American Libraries Magazine | The magazine of the American Library Association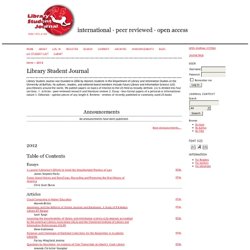 Library Student Journal
Library Student Journal was founded in 2006 by Masters students in the Department of Library and Information Studies at the University at Buffalo. Its authors, readers, and editorial board members include future Library and Information Science (LIS) practitioners around the world. We publish papers on topics of interest to the LIS field as broadly defined.
Library and Information Research
J Med Libr Assoc Volume 98(4);  October 2010
Journal of Library Innovation
Library Philosophy and Practice (LPP) is a peer-reviewed electronic journal that publishes articles exploring the connection between library practice and the philosophy and theory behind it.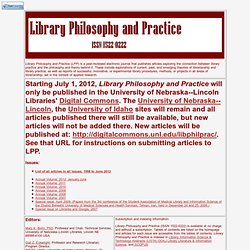 Library Philosophy and Practice title page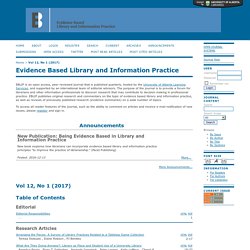 EBLIP is an open access, peer reviewed journal that is published quarterly, hosted by the University of Alberta Learning Services, and supported by an international team of editorial advisors.
Evidence Based Library and Information Practice
Moving Beyond Paper FAQs | Robert W. Woodruff (Main) Library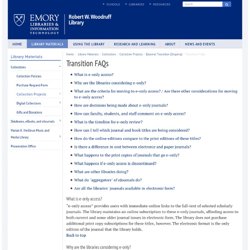 Many academic and research libraries are in the midst of what may ultimately be a major transition for various parts of their collections—a shift from print to electronic format. Libraries that had long subscribed only to print versions of journals or books are, in increasing numbers, licensing electronic versions to replace the print. Library collections and operations stand to change significantly as a result of this transition. In many academic libraries collection sizes in electronic format are significantly larger than they ever were for print. Notably different activities are required to manage and maintain an electronic collection, and many academic libraries are undertaking reviews of their current print, eJournal, and eBook subscription policies.
Libraries