Billy Tabernacle
Billy Tabernacle will be based on Steve Jobs as a young man. Leader of a cult like technology company that believes in transhumanism. Jan 10
Billy Tabernacle Character Sheet - Google Docs
Steven Paul "Steve" Jobs (/ˈdʒɒbz/; February 24, 1955 – October 5, 2011)[3][4] was an American entrepreneur,[5] marketer,[6] and inventor,[7] who was the co-founder, chairman, and CEO of Apple Inc. Through Apple, he is widely recognized as a charismatic pioneer of the personal computer revolution[8][9] and for his influential career in the computer and consumer electronics fields, transforming "one industry after another, from computers and smartphones to music and movies".[10] Jobs also co-founded and served as chief executive of Pixar Animation Studios; he became a member of the board of directors of The Walt Disney Company in 2006, when Disney acquired Pixar. Jobs was among the first to see the commercial potential of Xerox PARC's mouse-driven graphical user interface, which led to the creation of the Apple Lisa and, a year later, the Macintosh. He also played a role in introducing the LaserWriter, one of the first widely available laser printers, to the market.[11]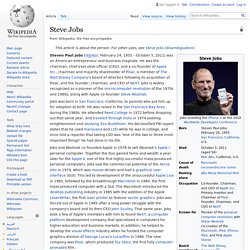 Steve Jobs eBook: Walter Isaacson
Amazon Best Books of the Month, November 2011: It is difficult to read the opening pages of Walter Isaacson's Steve Jobs without feeling melancholic. Jobs retired at the end of August and died about six weeks later. Now, just weeks after his death, you can open the book that bears his name and read about his youth, his promise, and his relentless press to succeed. But the initial sadness in starting the book is soon replaced by something else, which is the intensity of the read--mirroring the intensity of Jobs's focus and vision for his products.