Peartrees
Pearltrees: A Design Interface for Remapping the Web - ReadWrite. It's rare to look at a bookmarking tool and feel convinced that it's going to win a design award.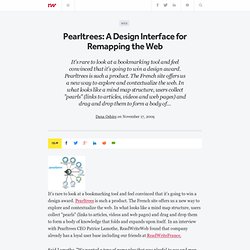 Pearltrees is such a product. The French site offers us a new way to explore and contextualize the web. In what looks like a mind map structure, users collect "pearls" (links to articles, videos and web pages) and drag and drop them to form a body of knowledge that folds and expands upon itself. In an interview with Pearltrees CEO Patrice Lamothe, ReadWriteWeb found that company already has a loyal user base including our friends at ReadWriteFrance. Said Lamothe, "We wanted a type of game play that was playful to use and map the web...and the fact that you can group and ungroup content easily means that you can re-catalogue it and keep it current. " Pearltrees Launches Embeds - Makes Bookmarks More Useful. Online bookmarking tools haven't really changed much over the last few years.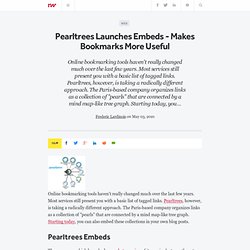 Most services still present you with a basic list of tagged links. Pearltrees, however, is taking a radically different approach. The Paris-based company organizes links as a collection of "pearls" that are connected by a mind map-like tree graph. Starting today, you can also embed these collections in your own blog posts. Why Social Beats Search.
That's a controversial post headline and I don't mean that social will always beat search, but there's a rising chorus out there about "content farms" and search optimized content creation that is worth touching on.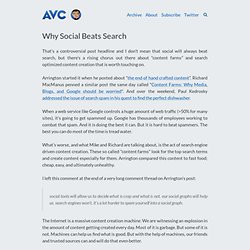 Arrington started it when he posted about "the end of hand crafted content". Richard MacManus penned a similar post the same day called "Content Farms: Why Media, Blogs, and Google should be worried". And over the weekend, Paul Kedrosky addressed the issue of search spam in his quest to find the perfect dishwasher.
---