Grammar
39. Is It Five PAIR or Five PAIRS of Socks? Greetings again, all of you grammar lovers and I hope you're all doing well.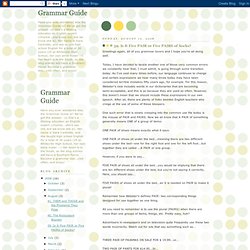 Today, I have decided to tackle another one of those very common errors we constantly hear that, I must admit, is going through some transition today. As I've said many times before, our language continues to change and certain expressions we hear many times today may have been considered terrible mistakes fifty years ago, for example. For this reason, Webster's now includes words in our dictionaries that are becoming semi-acceptable, and this is so because they are used so often. However, this doesn't mean that we should include these expressions in our own speech. 41. THEM and THOSE and the Problems They Pose. Welcome back, all of you grammarphiles!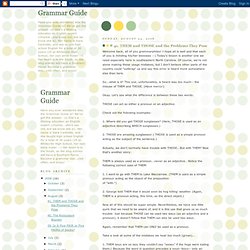 I hope all is well and that each of you is minding his/her beeswax :-) Today's lesson is another one we need especially here in southeastern North Carolina. Of course, we're not alone making these usage mistakes, but I don't believe other parts of the country could "outbrag" us and say this error is heard more somewhere else than here. So...what is it? This one, unfortunately, is heard way too much-- the misuse of THEM and THOSE. (Have mercy!) Garbl's Redundant Phrase Replacements -- simpler, concise alternatives to verbose, sometimes amusing phrases. [ Home ] [ Up ] [ Writing Resources ] [ Style Manual ] [ Writing Bookshelf ] [ What's New ] Consider using these simpler, concise alternatives to verbose, sometimes amusing redundant phrases.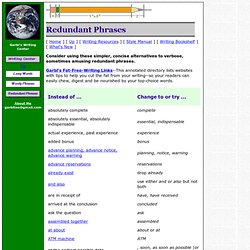 Garbl's Fat-Free-Writing Links--This annotated directory lists websites with tips to help you cut the fat from your writing--so your readers can easily chew, digest and be nourished by your top-choice words. [ Home ] [ Up ] [ Writing Resources ] [ Style Manual ] [ Writing Bookshelf ] [ What's New ] Maintained by Gary B. The Pompous Ass Words Web Site. BuzzWhack: The Buzzword Compliant Dictionary. Yahoo! Style Guide. Grammar Newsletter - English Grammar Newsletter.
Common Errors in English Usage. Grammar Grater | Podcasts. About the Podcast Grammar Grater® is a weekly podcast about English words, grammar and usage for the Information Age.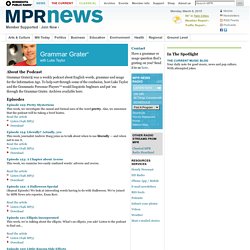 Because we live in a time of e-mail, blogs, instant messaging, even online product reviews—everybody's a writer. And with the global nature of communication, there's not a single style guide everyone uses. : Quick and Dirty Tips ™ Mignon Fogarty is the creator of Grammar Girl and the founder and managing director of Quick and Dirty Tips.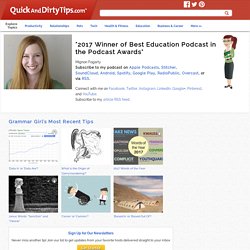 A magazine writer, technical writer, and entrepreneur, she has served as a senior editor and producer at a number of health and science web sites. She has a B.A. in English from the University of Washington in Seattle and an M.S. in biology from Stanford University. Mignon believes that learning is fun, and the vast rules of grammar are wonderful fodder for lifelong study. Subjunctive Verbs. Today's topic is the past subjunctive, or in terms you might recognize, when to use "I was" and when to use "I were.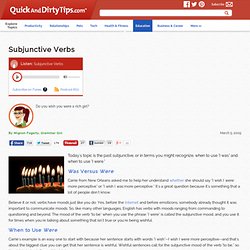 " Was Versus Were Carrie from New Orleans asked me to help her understand whether she should say "I wish I were more perceptive" or "I wish I was more perceptive. " Abbreviations.com. Acronym Finder. Cool Quotes Collection. Word Spy. Dictionary. Dictionary and Thesaurus - Merriam-Webster Online.
---