Jeux société
iPad Board Games. Cabals: The Card Game. Cabals: Magic & Battle Cards Outwit, outplay, and outmaneuver your enemies in this tactical, free-to-play, online multiplayer hybrid between a traditional trading card game and a turn-based strategy game!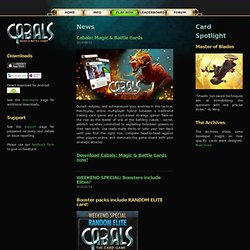 Take on the role as the leader of one of the battling cabals - secret, eldritch societies committed to exploiting forbidden powers to their own ends. Use ready-made decks or tailor your own deck until you find the right mix, compete head-to-head against other players online, and dominate the game board with your strategic attacks! Download Cabals: Magic & Battle Cards now! Tric Trac, le webzine francophone des jeux de société ! - Tric Trac Tv | Tout sur les jeux tout de suite, mais en vidéo. Vidéos sur les nouveautés, les sorties de jeux de société, les explications de règles du jeu | La version télé du site communautaire sur les jeux de société trictrac.net |
iOS Board Games. The Kickstarter for Armello is now live!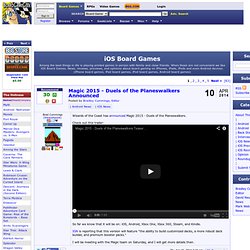 As we've reported in the past, the gorgeous Armello has been a passion project for League of Geeks. They've been building the game part time, around busy schedules. The Kickstarter is an opportunity for them to raise funds to make the game even better allowing several members of the team to hop on full time. This will speed up development and allow the project scope to expand. Had an early morning (for me)/late night (for him) chat with Trent Kusters, one of the leads on the project. iBoardgame. Brawl November 16, 2011 Brawl is a Real-Time Fighting Card Game on iPhone and iPad (universal app).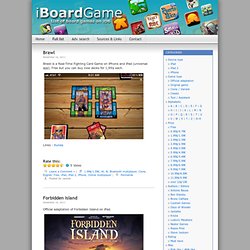 Free but you can buy new decks for 1,99$ each. Links : itunes Forbidden Island.
---