Science
A List Of Fallacious Arguments. Symphony of Science. The 10 Most Important Things They Didn't Teach You In School | C. By the time you're 30, you'll be hit with the crushing truth of just how much the grownups didn't teach you when you were in school.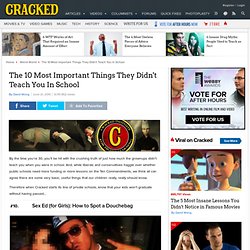 And, while liberals and conservatives haggle over whether public schools need more funding or more lessons on the Ten Commandments, we think all can agree there are some very basic, useful things that our children really, really should know. Therefore when Cracked starts its line of private schools, know that your kids won't graduate without having passed...
Sex Ed (for Girls): How to Spot a Douchebag Young ladies, you're in your teens now and already you have no doubt run into some guys who are being suspiciously nice to you. Likely you have figured out that in many cases, this has nothing to do with them being nice guys and everything to do with them desperately wanting you to touch their boner.
---