Site Technique du Son
DAW Bench : DAW Performance Benchmarking
Welcome to DAW Bench, this website is the home of an ongoing project to develop and collate an accurate data base of Real World Performance of Native DAW solutions using leading Digital Audio Applications and Hardware. The DAW Bench Forum : Community is a space where audio professionals can collectively contribute ideas, and technical discussion, as well as continue developing and expanding the benchmark suite, away from the noise of the regular audio forums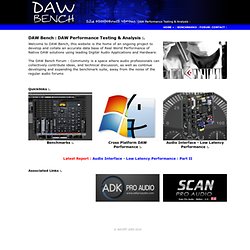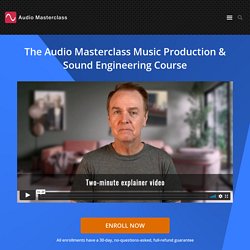 Video clips from Audio Masterclass... Microphone preamplifier comparison Drum recording techniques Classic compressor comparison Acoustic guitar recording techniques
The Audio Masterclass Music Production and Sound Engineering Course
>>>More News TechTalk MetApeelMetadata is like a banana peel. It looks great on the banana, but once it's separated, no one wants to own it.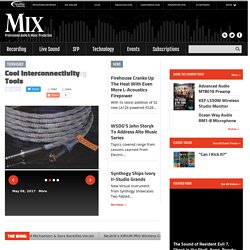 Outboard Gear
RECORDING & Sound Engineering Forums
3dB
osCommerce
The 3D Pre CD Volume 1 features 34 female vocal recordings in mono, using a Manley Reference microphone through 30 different preamps and 30 samples of a McPherson acoustic guitar, recorded in stereo using a Neumann KM-84 and an Audio-Technica 4033. The CD includes pictures from the 3D Preamp Listening Party, a complete list of the preamps, with URLs and pricing, a description of the testing procedure and a key to identify the preamps. Preamps included are: Amek 9098 Dual Mic Amp, Aphex 1100-Tube, API 512, ART Tube Channel, Audio Upgrades High-Speed Mic Preamp, Avalon VT-737, Buzz MA-2, Cranesong Flamingo, Daking 52270, dbx 386, dbx 786, D.W.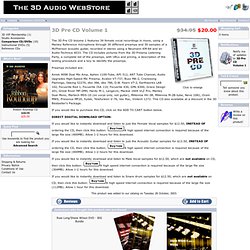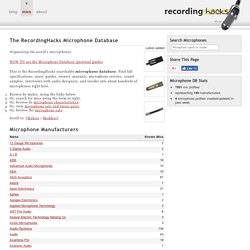 Microphone Database | RecordingHacks.com
The RecordingHacks Microphone Database Organizing the world's microphones HOW TO use the Microphone Database (pictorial guide). This is the RecordingHacks searchable microphone database.
Juke Box Limited - Importateur de Matériel Audio Professionnel - France & Benelux