Mobile
Android
Latest handheld devices and related news. Pocket PC programs: Softonic. Apple. S60 (software platform) Symbian S60v3 (3rd Edition) menu on a Nokia N73.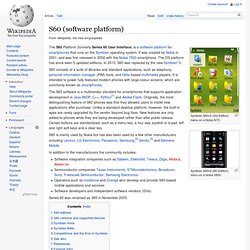 Symbian S60v5 (5th Edition) menu on a Nokia 5800. S60 consists of a suite of libraries and standard applications, such as telephony, personal information manager (PIM) tools, and Helix-based multimedia players. It is intended to power fully featured modern phones with large colour screens, which are commonly known as smartphones. S60 is mainly used by Nokia but has also been used by a few other manufacturers, including Lenovo, LG Electronics, Panasonic, Samsung,[2] Sendo,[3] and Siemens Mobile. GSMArena.com - GSM phone reviews, news, opinions, votes, manuals and more... Applications. Free Mobile Games, Free Themes, Mobile Software, Mobile Themes, iPhone Wallpapers.
How to backup contacts for windows mobile phone to computer,windows mobile contacts backup to computer. How to restore contacts to windows mobile phone ?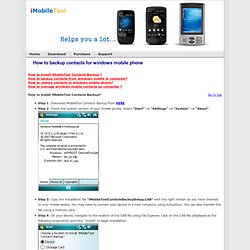 Step 1. Run "ContactsBackup". You will see the follow screenshot: Step 2. Click the "Restore" button,and then you will see the follow screenshot: Step 3. Phone Forum. Free Mobile softwares download - Cell Phone softwares & applications for Nokia, Sony Ericsson, Motorola etc.
---