HW
EKLIK.RS
Elektronika / Najbolja Cena / Bezbedna Prodaja / Beograd i Srbija
ProElectronic
Laptop Parts Super Store 10.162.49.162.
FUJITSU SIEMENS : Yadigi internacional -- importador mayorista España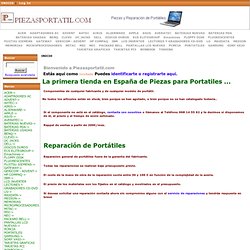 The first store in Spain of pieces for laptop... Components of any manufacturer and any model of laptop. All components are not necessarily in stock, or because they have been exhausted, or because they have still not been catalogued.. If any component is not in the catalogue, contact us email and we say if we have to you him, the price and term considered for shipment. All articles are refurbished, unless it is expressed explicitly in concrete article. We sent orders to all CEE countries.NOTE: This translation is under construction.
Laptop spare parts
yourITservice.net
:: PC Ekspert - Hardware EZine ::
Olovke
Benchmark
Tehnopolis
MANHATTAN : Home
Emmi online shop, prodaja: racunari, laptopovi, TFT monitori, netbook i notebook računari, foto oprema... | Početna
PAPIRNI SVET početna - Papirni Svet
Shopping
Welcome to NVIDIA - World Leader in Visual Computing Technologies
Toshiba
MSI
Welcome to CODEGEN GROUP
FOXCONN
ASRock
Mobile devices - Product catalog - Fujitsu
Fujitsu recommends Windows 8. <object width="580" height="224" type="application/x-shockwave-flash" data="/fts/resources/design/stylesheets/flash/response_banner.swf"><param name="movie" value="/fts/resources/design/stylesheets/flash/response_banner.swf" /><param name="wmode" value="transparent" /><param name="flashvars" value="content=Excellence in Mobility" /><div class="alt-content">All New in Touch</div></object> If you need reliable mobile device, the broad Fujitsu LIFEBOOK portfolio offers a range of entry-level and more powerful, individual solutions. Extensive configuration options provide ultimate flexibility and convenience, and innovative energy-saving technology reduces the environmental footprint of your notebooks. Moreover, every Fujitsu LIFEBOOK delivers highest reliability, driven by a unique combination of German precision engineering and Japanese quality, supported by 30 years of experience.
TeK Computer