YouTube Statistics
YouTube Statistics -
It seems like just yesterday that YouTube announced that they had hit 24 hours of video content uploaded per minute. Last Wednesday, YouTube announced that they have now hit a whopping 35 hours of video uploaded every minute. At that rate (though it will likely increase), this equals a total of around 18.4 million hours of video content uploaded to YouTube on an annual basis.
YouTube Users Now Upload 35 Hours Of Video Every Minute - Great Scott
35-hours.png (1202×915)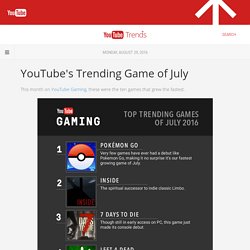 The first-ever YouTube Music Awards are live this Sunday evening at 6pmET and to celebrate, we did a little digging into the data behind some of the 2013 nominees, all of which were selected based on a series of viewership, subscriber, and/or engagement metrics. (To get all the details on the nominees read this or check out the YouTube Spotlight channel where you can also vote for the winners.) Video of the year is one of the categories drawing the most interest, and that's not really a surprise when you consider the 1.9 billion views these videos currently have combined. That's an average of over half a million views for every second of video. Here is daily viewership data (though, please note that we have cut off the initial "Gentleman" spike, which at a record 38 million views in a single day made this chart hilariously unreadable): The ten nominees for Artist of the Year drew nearly 10 billion views combined on their official videos between October 2012 and the start of this month.
Attention au tournis... A l'occasion de son 6e anniversaire, YouTube dévoile quelques chiffres qui encore une fois donnent le vertige. Ainsi, trois milliards de vidéos sont vues quotidiennement sur la plate-forme de streaming, soit une augmentation de 50 % par rapport à l'an dernier.
Vertige des chiffres : YouTube, 6 ans et 3 milliards de vidéos vues par jour