YouTube Statistics
YouTube Statistics - YouTube Users Now Upload 35 Hours Of Video Every Minute - Great Scott. It seems like just yesterday that YouTube announced that they had hit 24 hours of video content uploaded per minute.
Last Wednesday, YouTube announced that they have now hit a whopping 35 hours of video uploaded every minute. At that rate (though it will likely increase), this equals a total of around 18.4 million hours of video content uploaded to YouTube on an annual basis. 35-hours.png (1202×915) YouTube Trends. Vertige des chiffres : YouTube, 6 ans et 3 milliards de vidéos vues par jour. Attention au tournis...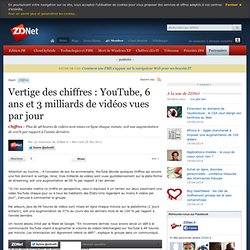 A l'occasion de son 6e anniversaire, YouTube dévoile quelques chiffres qui encore une fois donnent le vertige. Ainsi, trois milliards de vidéos sont vues quotidiennement sur la plate-forme de streaming, soit une augmentation de 50 % par rapport à l'an dernier.
---