Xcode
Get flash to fully experience Pearltrees
Par Korben Si vous êtes sous Mac OSX et que vous utilisez XCode pour développer vos applications (pour iOS par exemple), vous vous êtes probablement rendu compte que trouver des plugins ou des templates sympas et les installer n'était pas simple. Mais oh oui youpi comme dirait Serge Karamazov, voici venue Alcatraz , une application open source qui fait office de gestionnaire de packages pour Xcode. Grâce à Alcatraz , vous pourrez trouver les plugins, les templates, les modèles de couleurs qui vous conviennent et l'installer en un click. Pour fonctionner, Alcatraz a besoin de l'outil en ligne de commande d'Xcode que vous devrez installer via le menu Xcode -> Preferences -> Downloads. Ensuite, lancez un terminal puis entrez les commandes suivantes :
manage __MyCompanyName__ and Auther
Xcode Shortcuts (PNG) Xcode Shortcuts (PDF) Xcode Shortcuts (Black & White PNG) Xcode Shortcuts (Black & White PDF) Inspired by the Des Moines Cocoaheads Group discussion on keyboard shortcuts for Xcode that we weren't aware of, I decided that I had had enough of not having a simple reference sheet with all the shortcuts on it. Sure you can find listings of Xcode keyboard shortcuts if you know where to look, but nothing concise on an all in 1 reference sheet. So Over a couple weeks I made one with all (i believe) 206 keyboard shortcuts on it... yeah I've been using Xcode for a while an I wasn't aware there were so f'ing many shortcuts. Click on the link above and download and share to your hearts content.
Xcode presents you with a dialog when the simulator needs to be downloaded. Documentation preferences has consequently been replaced with Downloads preferences, including both documentation and components (simulators and SDKs). Using the Components tab of the Downloads preferences pane, you can view a description of each available component, download and install it. by drone Mar 1
#!/bin/bash project_dir=` pwd ` environment_name= "staging" keychain= "ci_keys" keychain_password= "super secret"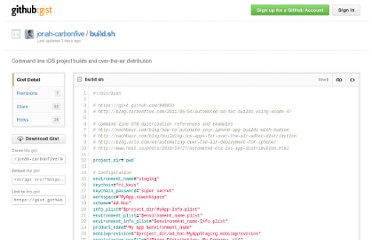 #!/bin/bash # https://gist.github.com/949831 # http://blog.carbonfive.com/2011/05/04/automated-ad-hoc-builds-using-xcode-4/ # command line OTA distribution references and examples