Withings
Objets connectés : un pèse-bébé intelligent signé Withings
Les objets intelligents et connectés (balance wifi, tensiomètre connecté au iOS Devices - iPhone,iPad,iPod - et BabyMonitor) - Accueil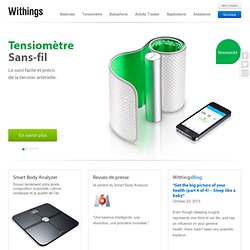 Mesurez.
Mesurez. Progressez.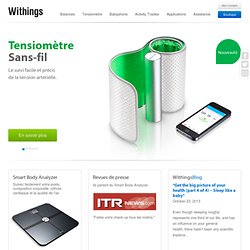 Les objets intelligents et connectés (balance wifi, tensiomètre connecté au iOS Devices - iPhone,iPad,iPod - et BabyMonitor) - Accueil
Withings, the same company that brought you the world's first internet-connected bathroom scale and announced an iPhone-based blood pressure cuff yesterday, has now announced the Smart Baby Monitor at CES 2011. This device features a wide-angle lens, 3 MP sensor and night vision with infrared LEDs to light up your spawn. The Smart Baby Monitor is primarily made for use with the iPhone, and it's more than just a one-way monitor.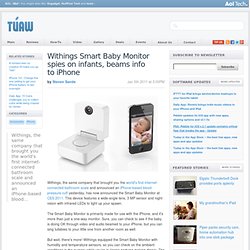 Withings Smart Baby Monitor spies on infants, beams info to iPhone
The Tweeting Wifi Body Scale Scores 3 Million Euros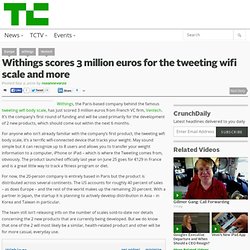 Withings, the Paris-based company behind the famous tweeting wifi body scale, has just scored 3 million euros from French VC firm, Ventech. It's the company's first round of funding and will be used primarily for the development of 2 new products, which should come out within the next 6 months.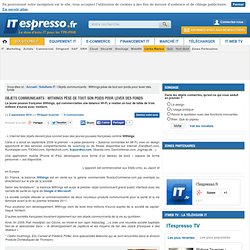 Objets communicants : Withings pèse de tout son poids pour lever des fonds
L'internet des objets devient plus concret avec des jeunes pousses françaises comme Withings.
Wi-Fi Body Scale WiThings Packs on $3.8M for Public Humiliation Diets
La balance Withings WiScale communique maintenant avec Android « FrAndroid Communauté Android
Le pèse personne Withings WiScale est maintenant compatible avec Android. Vous rêviez d'avoir un pèse-personne absolument hi-tech ? Vous trouverez certainement la réponse auprès du Withings WiScale. Cette balance est connectée à votre réseau wifi et permet de relever votre poids que vous pourrez alors suivre depuis votre ordinateur, téléphone Android et iPhone. Aussi improbable que cela puisse paraître vous allez pouvoir connecter la balance à votre ordinateur (en USB) pour la configurer. Véritable objet pour les fans de technologie, il sera possible de définir des objectifs et vous recevrez chaque semaine vos progrès.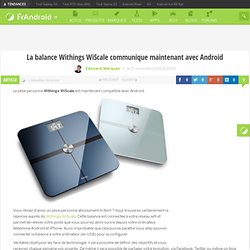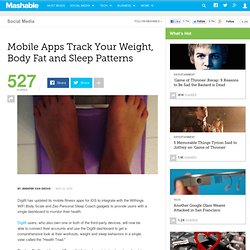 Digifit has updated its mobile fitness apps for iOS to integrate with the Withings WiFi Body Scale and Zeo Personal Sleep Coach gadgets to provide users with a single dashboard to monitor their health.
Mobile Apps Track Your Weight, Body Fat and Sleep Patterns
By Sree Sreenivasan DNAinfo contributing editor There are, broadly speaking, two kinds of new technology. There are new tech products you understand right away because they improve things you've used for years. Digital music players and electronic readers are examples of this. Then there are new products that you don't understand because you're convinced there's no need for them right now (or that your life is complicated enough without them).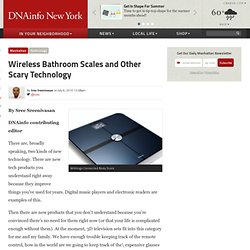 Wireless Bathroom Scales and Other Scary Technology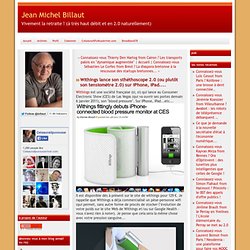 Withings lance son sthéthoscope 2.0 (ou plutôt son tensiomètre 2.0) sur iPhone, iPad.
Withings est une société française (si, si) qui lance au Consumer Electronic Show (CES) de Las Vegas (qui va ouvrir ses portes demain 6 janvier 2011), son "blood pressure".
L'iHealth d'Apple arrive en pharmacie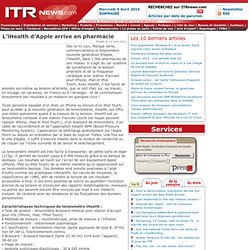 Dès la mi-juin, Marque Verte, commercialisera le tensiomètre nouvelle génération d'Apple, l'iHealth, dans 1 500 pharmacies de son réseau.
Untitled from Jean Michel Billaut on Vimeo. Cédric revient du Consumer Electronic Show qui s'est tenu la semaine dernière à Las Vegas...
vous Cédric Hutchings from Paris ? Le premier suivi de santé en 2.0
... et pas besoin de lois, de décrets d'application on Vimeo
Hardware Components and Documentation
MFi Program - Apple Developer
vous Cédric Hutchings ? Même le pèse-personne se met au 2.0 !
Untitled from Jean Michel Billaut on Vimeo.
Le pèse-personne se met lui aussi au 2.0 on Vimeo