Withings
Objets connectés : un pèse-bébé intelligent signé Withings. Les objets intelligents et connectés (balance wifi, tensiomètre connecté au iOS Devices - iPhone,iPad,iPod - et BabyMonitor) - Accueil. Mesurez.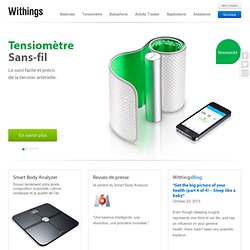 Progressez. Un smart tracker de 8 grammes pour analyser votre activité 24h/24 et 7j/7,mesurer votre rythme cardiaque et améliorer votre santé.En savoir plus Tensiomètre Sans-fil. Les objets intelligents et connectés (balance wifi, tensiomètre connecté au iOS Devices - iPhone,iPad,iPod - et BabyMonitor) - Accueil. Mesurez.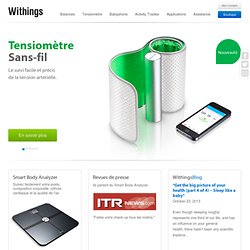 Progressez. Un smart tracker de 8 grammes pour analyser votre activité 24h/24 et 7j/7,mesurer votre rythme cardiaque et améliorer votre santé.En savoir plus Tensiomètre Sans-fil Le suivi facile et précis de la tension artérielle. Withings Smart Baby Monitor spies on infants, beams info to iPhone. Withings, the same company that brought you the world's first internet-connected bathroom scale and announced an iPhone-based blood pressure cuff yesterday, has now announced the Smart Baby Monitor at CES 2011.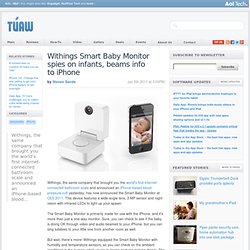 This device features a wide-angle lens, 3 MP sensor and night vision with infrared LEDs to light up your spawn. The Smart Baby Monitor is primarily made for use with the iPhone, and it's more than just a one-way monitor. The Tweeting Wifi Body Scale Scores 3 Million Euros. Withings, the Paris-based company behind the famous tweeting wifi body scale, has just scored 3 million euros from French VC firm, Ventech.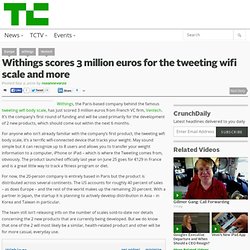 It's the company's first round of funding and will be used primarily for the development of 2 new products, which should come out within the next 6 months. For anyone who isn't already familiar with the company's first product, the tweeting wifi body scale, it's a terrific wifi-connected device that tracks your weight. May sound simple but it can recognize up to 8 users and allows you to transfer your weight information to a computer, iPhone or iPad – which is where the Tweeting comes from, obviously. The product launched officially last year on June 25 goes for €129 in France and is a great little way to track a fitness program or diet. For now, the 20-person company is entirely based in Paris but the product is distributed across several continents. Objets communicants : Withings pèse de tout son poids pour lever des fonds. L'internet des objets devient plus concret avec des jeunes pousses françaises comme Withings.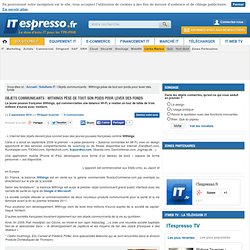 Celle-ci a lancé en septembre 2009 le premier « e-pèse-personne » (balance connectée en Wi-Fi) avec un design approfondi et des services complémentaires de coaching ou de fitness disponible sur Internet (DailyBurn.com, RunKeeper.com, FitOrbit.com, Gymtechnik.com, Aujourdhui.com, Strands.com, Danholt4mac.com, Jogmap.de…). Une application mobile iPhone et iPad, développée sous forme d'un tableau de bord « espace de forme personnel », est disponible. L'appareil est commercialisé aux Etats-Unis, au Japon et en Europe. En France, la balance Withings est en vente sur la galerie commerciale RueduCommerce.com par exemple ou directement sur le site de la société. Wi-Fi Body Scale WiThings Packs on $3.8M for Public Humiliation Diets. La balance Withings WiScale communique maintenant avec Android « FrAndroid Communauté Android. Le pèse personne Withings WiScale est maintenant compatible avec Android.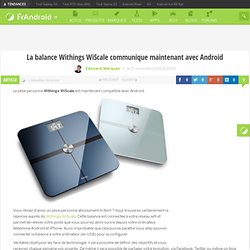 Vous rêviez d'avoir un pèse-personne absolument hi-tech ? Vous trouverez certainement la réponse auprès du Withings WiScale. Cette balance est connectée à votre réseau wifi et permet de relever votre poids que vous pourrez alors suivre depuis votre ordinateur, téléphone Android et iPhone. Aussi improbable que cela puisse paraître vous allez pouvoir connecter la balance à votre ordinateur (en USB) pour la configurer. Véritable objet pour les fans de technologie, il sera possible de définir des objectifs et vous recevrez chaque semaine vos progrès. Mobile Apps Track Your Weight, Body Fat and Sleep Patterns. Digifit has updated its mobile fitness apps for iOS to integrate with the Withings WiFi Body Scale and Zeo Personal Sleep Coach gadgets to provide users with a single dashboard to monitor their health.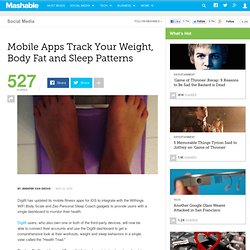 Digifit users, who also own one or both of the third-party devices, will now be able to connect their accounts and use the Digifit dashboard to get a comprehensive look at their workouts, weight and sleep behaviors in a single view called the "Health Triad. " The free Digifit mobile apps [iTunes link] already work to track a slew of metrics, including heart rate and calories burned, for cardio workouts, and can map runs and bike rides. The service is meant to combine the functions of multiple fitness devices — heart rate monitors and run trackers — into a single app experience. Wireless Bathroom Scales and Other Scary Technology. By Sree Sreenivasan DNAinfo contributing editor There are, broadly speaking, two kinds of new technology.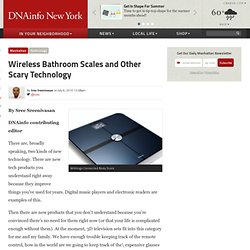 There are new tech products you understand right away because they improve things you've used for years. Digital music players and electronic readers are examples of this. Then there are new products that you don't understand because you're convinced there's no need for them right now (or that your life is complicated enough without them). Withings lance son sthéthoscope 2.0 (ou plutôt son tensiomètre 2.0) sur iPhone, iPad. Withings est une société française (si, si) qui lance au Consumer Electronic Show (CES) de Las Vegas (qui va ouvrir ses portes demain 6 janvier 2011), son "blood pressure".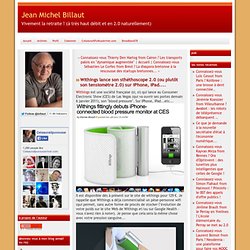 Sur iPhone, iPad...etc... Il est disponible dés à présent sur le site de withings pour 129 €. Je rappelle que Withings a déja commercialisé un pèse-personne wifi (qui permet, sans autre forme de procés de stocker l"évolution de votre poids sur le site Web de Withings et/ou sur Google Health - vous n'avez rien à noter). L'iHealth d'Apple arrive en pharmacie. Dès la mi-juin, Marque Verte, commercialisera le tensiomètre nouvelle génération d'Apple, l'iHealth, dans 1 500 pharmacies de son réseau.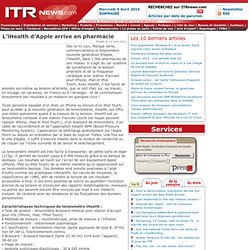 Il s'agit du 1er système de surveillance de la tension artérielle et de la fréquence cardiaque avec station d'accueil pour iPhone, iPad et iPod Touch. Avec iHealth, il est facile de prendre soi-même sa tension artérielle, que ce soit chez soi, au travail, en voyage, en vacances, en France ou à l'étranger… et de communiquer directement ses résultats à un médecin en quelques clics ! Toute personne équipée d'un iPad, un iPhone ou encore d'un iPod Touch, peut accéder à la nouvelle génération de tensiomètres, iHealth, qui offre une totale autonomie quand à la mesure de la tension. iHealth est un tensiomètre composé d'une station d'accueil (socle sur lequel peuvent reposer iPhone, iPad et iPod Touch.), d'un brassard de tensiomètre, d'un câble de raccordement et de l'application iHealth BPM (Blood Pressure Monitoring System). Vous Cédric Hutchings from Paris ? Le premier suivi de santé en 2.0. Untitled from Jean Michel Billaut on Vimeo. Cédric revient du Consumer Electronic Show qui s'est tenu la semaine dernière à Las Vegas...
Il y avait un stand où il présentait les 2 nouveaux objets Withings "qui facilitent le vie" : un tensiomètre 2.0 et un "smart baby monitor" (je rappelle que Cédric était déjà passé au e-billautshow en février 2010 pour présenter le premier objet de Withings : le pèse-personne 2.0 - voir ici). Gos succès du "frenchie" à Las Vegas. Il commence dans cette interview par nous présenter (et nous montrer) le tensiomètre 2.0 qui fonctionne en liaison avec l'iPhone d'Apple. L'iphone enregistre les données et d'un clic, vous pouvez les envoyer à votre médecin où sur le Web de Withings ou encore sur Google Health.
... et pas besoin de lois, de décrets d'application. MFi Program. Hardware Components and Documentation Get the hardware connectors and components that are required to manufacture iPod, iPhone, iPad, and AirPlay audio accessories. And access the iPod Accessory protocol specification, the communication protocol used to interact with iPod, iPhone, and iPad. MFi Logos Promote your electronic accessory with MFi logos. Vous Cédric Hutchings ? Même le pèse-personne se met au 2.0 ! Untitled from Jean Michel Billaut on Vimeo. Cédric est l'un des co-fondateurs de Withings, jeune société française, dont l'objectif est de rendre "IP" c'est-à-dire connectable à l'Internet, tous les objets de la vie quotidienne... Pourquoi ? Le premier objet est un pèse-personne wifi-sé. C'est une balance normale : vous montez dessus : il vous affiche votre poids (ce qui normal pour une balance). Le pèse-personne se met lui aussi au 2.0.
---