Wireless
Wifi. Satelite. GSM. Quality Network. JoikuBoost démultiplie la vitesse de l'Internet mobile. En mettant en commun les connexions 3G de ses utilisateurs, l'application mobile crée un réseau Wi-Fi plus rapide.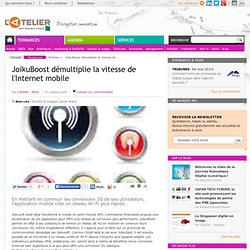 Joikusoft avait déjà transformé le mobile en point d'accès WiFi. L'entreprise finlandaise propose une amélioration de son application pour offrir une vitesse de connexion plus performante. JoikuBoost permet en effet à ses utilisateurs de former un réseau dit 4G en mettant en commun leurs connexions 3G, même d'opérateurs différents. Il s'appuie pour ce faire sur un protocole de communication développé par Joikusoft. Le WiGig : 10 à 20 fois plus rapide que le Wi-Fi - DegroupNews. La Wireless Gigabit Alliance annonce son intention de développer un standard pour les connexions sans fil répondant aux besoins accrus en bande passante.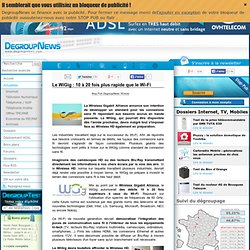 Le WiGig, qui pourrait être disponible dès l'année prochaine, devra malgré tout s'imposer face au Wireless HD également en préparation. Les industriels travaillent déjà sur le successeur du Wi-Fi. Afin de répondre aux besoins croissants en termes de débits, les tuyaux des connexions sans fil devront s'agrandir de façon considérable. Plusieurs géants des technologies sont prêts à miser sur le WiGig comme standard de connexion sans fil.
WIMAX
Wifi. Miracasf Label. Direct™ | Wi-Fi Alliance. Discover Wi-Fi Portable Wi-Fi® that goes with you anywhere Wi-Fi CERTIFIED Wi-Fi Direct® is a certification mark for devices supporting a technology that enables Wi-Fi devices to connect directly, making it simple and convenient to do things like print, share, sync and display.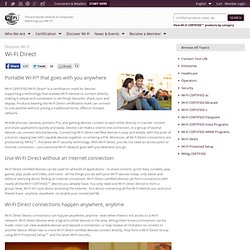 Products bearing the Wi-Fi Direct certification mark can connect to one another without joining a traditional home, office or hotspot network. Mobile phones, cameras, printers, PCs, and gaming devices connect to each other directly to transfer content and share applications quickly and easily. Devices can make a one-to-one connection, or a group of several devices can connect simultaneously.
Neworlk card
Lifi. Bluetooth. Others. Trend. Wireless Sensor / metric. Company Operator.
---