Wireless
JoikuBoost démultiplie la vitesse de l'Internet mobile
En mettant en commun les connexions 3G de ses utilisateurs, l'application mobile crée un réseau Wi-Fi plus rapide.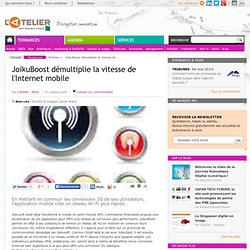 Le WiGig : 10 à 20 fois plus rapide que le Wi-Fi - DegroupNews.
La Wireless Gigabit Alliance annonce son intention de développer un standard pour les connexions sans fil répondant aux besoins accrus en bande passante.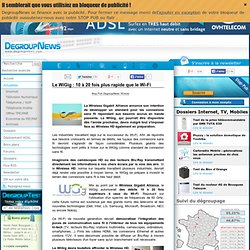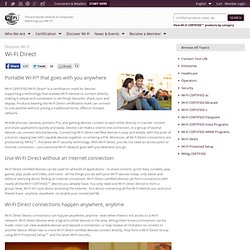 Portable Wi-Fi® that goes with you anywhere Wi-Fi CERTIFIED Wi-Fi Direct® is a certification mark for devices supporting a technology that enables Wi-Fi devices to connect directly, making it simple and convenient to do things like print, share, synch and display. Products bearing the Wi-Fi Direct certification mark can connect to one another without joining a traditional home, office or hotspot network. Mobile phones, cameras, printers, PCs, and gaming devices connect to each other directly to transfer content and share applications quickly and easily. Devices can make a one-to-one connection, or a group of several devices can connect simultaneously. Connecting Wi-Fi Direct-certified devices is easy and simple, in many cases only requiring the push of a button.
Direct™ | Wi-Fi Alliance