Windows
Activation / security (Windows)
AutoIt (windows script automation)
Application Store pour Windows XP, Vista et Seven pour trouver e
Raccourcis clavier et souris de Windows : Mise en route - Centre
Windows Life-Cycle Policy
Last updated: January 2013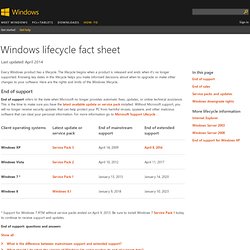 Si l'icône du bureau n'est plus affichée dans le lancement rapide, cet article vous aidera à recréer ce raccourci. Fonction de l'icône Bureau
Remettre l'icône Bureau dans la barre de lancement rapide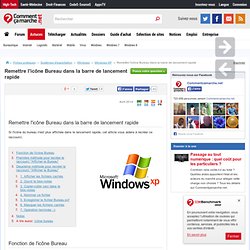 Majuscules avec accent ou cédille dans Word. - Le blog de Bernar
Mardi 7 octobre 2 07 / 10 / Oct 23:00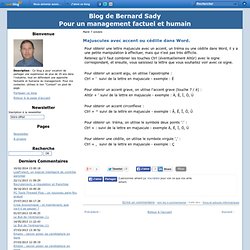 Comment installer, réinstaller, réparer Windows 8 , Windows 7 ou Windows Vista .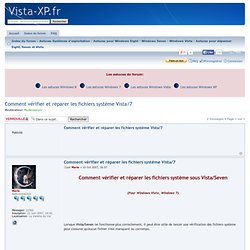 Comment vérifier et réparer les fichiers système Vista/7 : Astuces pour dépanner Vista et Seven
Formation a Windows 98 et ses logiciels(trucs et astuces), Internet, cours en ligne, Gratuit by drone Feb 13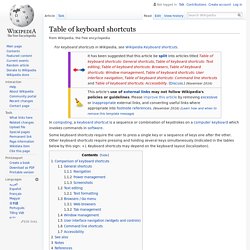 In computing , a keyboard shortcut is a sequence or combination of keystrokes on a computer keyboard which invokes commands in software .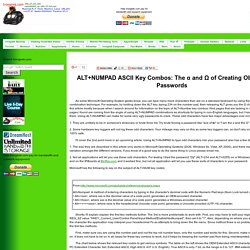 ALT+NUMPAD ASCII Key Combos: The α and Ω of Creating Obscure Pas
ALT+NUMPAD ASCII Key Combos: The α and Ω of Creating Obscure Passwords As some Microsoft Operating System geeks know, you can type many more characters than are on a standard keyboard by using the ALT+NUMPAD combination technique.
RATP
7-Zip, en 2 mots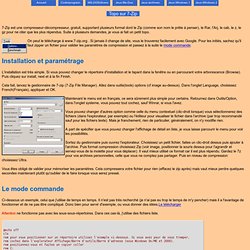 7-Zip est une compresseur-décompresseur, gratuit, supportant plusieurs format dont le Zip (comme son nom le prête à penser), le Rar, l'Arj, le cab, le z, le gz pour ne citer que les plus répendus. Suite à plusieurs demandes, je vous ai fait un petit topo. On peut le télécharge à www.7-zip.org .
Spécialiste des questions de sécurité et ingénieur au sein de Google, Tavis Ormandy a dévoilé samedi 5 juin l'existence d'une faille non corrigée dans le service Aide et Centre de support de Windows.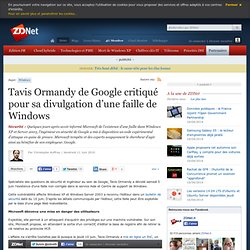 Tavis Ormandy de Google critiqué pour sa divulgation d'une faill
L'outil Certificate Manager Tool (Gestionnaire de certificats) gère les certificats, les listes de certificats de confiance (CTL, Certificate Trust List) et les listes de révocation de certificats (CRL, Certificate Revocation List).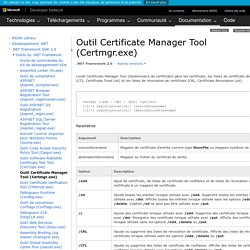 Outil Certificate Manager Tool (Certmgr.exe)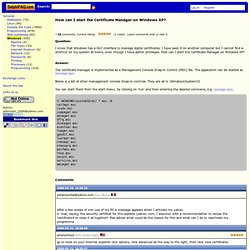 I got into Certificate Manager on my XP my going to computer Tools, Options, then certicates.
certmgr.msc => How can I start the Certificate Manager on Windows XP?
A common type of credential is the X.509 certificate.
mmc How to: View Certificates with the MMC Snap-in