Windows Phone Dev.
Expression Blend® 4 | Silverlight | Rich Internet Applications | XAML | WPF Applications | .NET Platform | TFS | VB | C# | Microsoft® Expression® The proliferation of rich interactive web applications across the cloud and mobile devices continues to create new opportunities for creative design and development.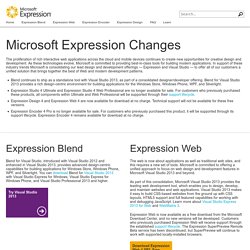 As these technologies evolve, Microsoft is committed to providing best-in-class tools for building modern applications. In support of these industry trends Microsoft is consolidating our lead design and development offerings — Expression and Visual Studio — to offer all of our customers a unified solution that brings together the best of Web and modern development patterns. Blend continues to ship as a standalone tool with Visual Studio 2013, as part of a consolidated designer/developer offering. Home.
Home. Utilisation du téléphone avec un TTY | Windows Phone 7. Si vous voulez utiliser votre téléphone avec un TTY/ATS pour passer un appel : Branchez votre téléphone au TTY à l'aide du câble et du connecteur appropriés pour la prise du casque.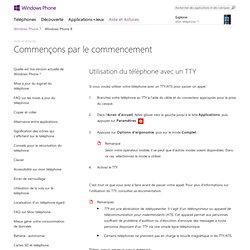 Dans l'écran d'accueil, faites glisser vers la gauche jusqu'à la liste Applications, puis appuyez sur Paramètres . Appuyez sur Options d'ergonomie, puis sur le mode Complet. RemarqueSelon votre opérateur mobile, il se peut que d'autres modes soient disponibles. Dans ce cas, sélectionnez le mode à utiliser. iOS to WP7 API Mapping Tool [Developers]
Should you posess incredible coding skill in the iOS realm and be interested in the Windows Phone platform, we have some good news for you for the gap between the two operating systems.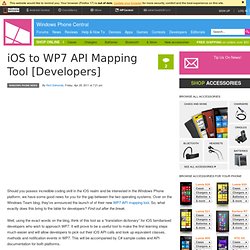 Over on the Windows Team blog, they've announced the launch of of their new WP7 API mapping tool. So, what exactly does this bring to the table for developers? Conor Seabrook from Avalinx- Experience developing for Windows Phone | WindowsPhone7 - Home.
---