Tutorials / Normes
A reminder for people interested in the joint W3C/IAB "STRINT" workshop: The deadline for submitting position papers is Wednesday 15 January 2014. The workshop pages explain how to submit. The main theme of the workshop is pervasive monitoring and how (future) Internet protocols can be protected against it.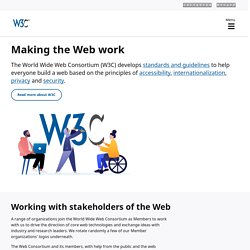 JSON Introduction
Tryit Editor v1.4 Summary Web Platform Docs is a community-driven site that aims to become a comprehensive and authoritative source for web developer documentation. Explore our web development docs General web concepts Conceptual and tutorial articles on topics such as how the web works, information architecture, typography, and web design. Conceptual, tutorial, and reference materials for the main markup language of the web.
XSLT Tutorial
XMLfr: l'espace XML francophone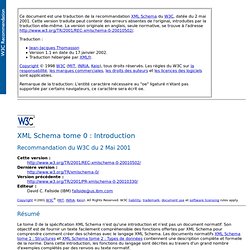 Recommandation du W3C du 2 Mai 2001 Cette version : http://www.w3.org/TR/2001/REC-xmlschema-0-20010502/ Dernière version :
XML Schema tome 0: Introduction
XML expliqué aux débutants Un article de vulgarisation illustré d'exemples. Ne suppose aucune connaissance préalable de l'Internet, du WWW ni de la documentation électronique Commencez dès aujourd'hui à manipuler du XML ! Rien de tel, pour comprendre XML, que de : visualiser les pages XML déjà présentes sur le Web et, mieux encore, commencer soi-même à produire du XML.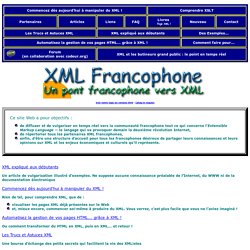 XML Francophone