TrueCrypt
Comment cracker un conteneur TrueCrypt
Par Korben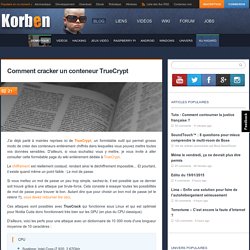 Information Security Short Takes: Cracking a TrueCrypt Container
This week i tried to open an old TrueCrypt container.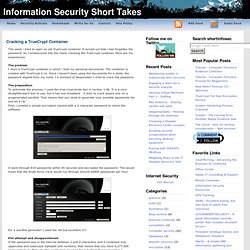 TrueCrypt on Ubuntu - tutorial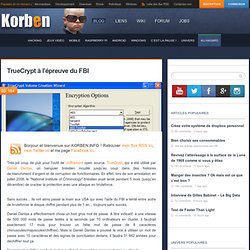 TrueCrypt à l'épreuve du FBI
Par Korben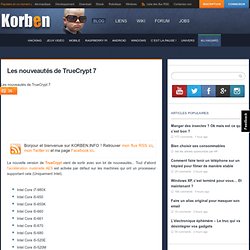 Par Korben
Les nouveautés de TrueCrypt 7
Par Korben Si vous êtes un grand utilisateur de Dropbox , vous avez peut être conscience que si un jour quelqu'un trouve votre mot de passe, il pourra accéder directement à vos données. Pas cool...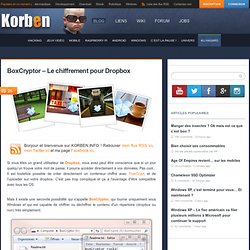 BoxCryptor – Le chiffrement pour Dropbox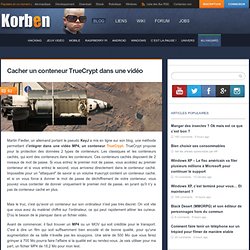 Martin Fiedler, un allemand portant le pseudo KeyJ a mis en ligne sur son blog, une méthode permettant d' intégrer dans une vidéo MP4, un conteneur TrueCrypt .
Cacher un conteneur TrueCrypt dans une vidéo
You probably know TrueCrypt , the perhaps most popular tool for encrypting filesystems. As an alternative to full filesystem or even full disk encryption, TrueCrypt can also work with filesystems inside encrypted container files.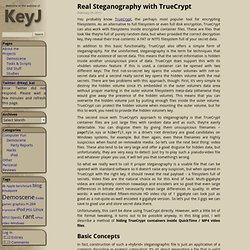 KeyJ's Blog : Blog Archive » Real Steganography with TrueCrypt
Par Korben Si comme Obama , vous voulez faire de votre téléphone, un appareil ultra sécurisé afin d'y conserver des secrets d'Etat, WhisperCore est une application Android qui fonctionne uniquement sur le Nexus S et qui permet de chiffrer intégralement la mémoire système et la carte SD avec un algo AES de 256 bits. Un peu à la manière d'un TrueCrypt pour votre ordinateur, WhisperCore vous demandera un mot de passe et chiffrera bien l'intégralité du téléphone (et pas seulement vos données perso).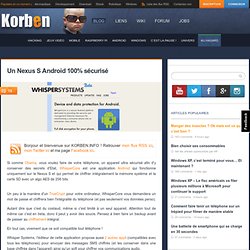 Un Nexus S Android 100% sécurisé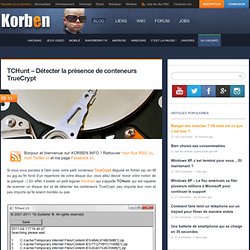 Par Korben Si vous vous pensiez à l'abri avec votre petit conteneur TrueCrypt déguisé en fichier zip, en dll ou jpg au fin fond d'un repertoire de votre disque dur, vous allez devoir revoir votre notion de la planque ;-) En effet, il existe un petit logiciel Windows qui s'appelle TCHunt , qui est capable de scanner un disque dur et de détecter les conteneurs TrueCrypt, peu importe leur nom et peu importe qu'ils soient montés ou pas. En effet, TCHunt se base sur la taille du fichier, sur son header, et sur différents tests comme celui du Khi-carré pour déterminer si un fichier est "possiblement" un conteneur TrueCrypt.
TCHunt – Détecter la présence de conteneurs TrueCrypt